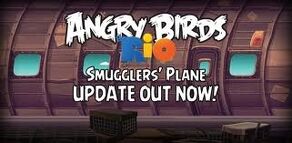 Smuggler's Plane
is the sixth episode in
Angry Birds Rio
. It debuts the
Hal
and
Bubbles
in Angry Birds Rio. The first half of the episode was released on November 22, 2011. In this chapter, there will be birds to free. The second half was released on January 26, 2012. On the final level of the second pack, it's the return of
Nigel
.
While it was believed that Smuggler's Plane would be the final episode of Angry Birds Rio, Rovio announced via their blog that "we'll still be creating great new content for Angry Birds Rio based on deleted scenes and extras from the movie. So keep your eyes peeled for even more great Angry Birds Rio levels coming up soon!"[1]
The end cut-scene first shows the caged species becoming free and Nigel becomes a corpse because he flew close to the propeller. The Birds finally hijack the plane and pilot it off. The second part shows a single panel of the Birds on the plane flying back to their home and away from Rio. The Pigs, seeing the eggs, are ready to steal them until the plane comes down and crashes. The cut-scene ends with the Birds having the eggs again.
In The Movie
The smugglers use a plane to escape with all the birds (Blu, Jewel, Rafael, Nico and Pedro included). The plane shown is one used for practicing skydiving.
The plane is a
Short SC.7 Skyvan
, a 19-seater twin turboprop aircraft manufactured by Short Brothers of Belfast, Northern Ireland. It is used mainly for short-haul freight and skydiving.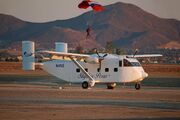 Trivia
The ending cut-scenes of Smuggler's Plane show the pigs for the first time in the game.
There is an extra Rio level when you earn all of the golden fruits. The level contains a bunch of pig balloons and in the middle is an actual king pig balloon.
Gallery
References