Rio
Directed by
Carlos Saldanha
Produced by
Bruce Anderson
John C. Donkin
Written by
Narrated by
Voices
Jesse Eisenberg
Anne Hathaway
George Lopez
Jamie Foxx
will.i.am
Tracy Morgan
Jemaine Clement
Andy García
Kristin Chenoweth
Bruno Mars
Leslie Mann
Rodrigo Santoro
Pierce Gagnon
Amandla Stenberg
Rachel Crow
Jake T. Austin
Bebel Gilberto
Philip Lawrence
Jeffrey Garcia
Charles Martinet
Kenny James
Music
John Powell
Sérgio Mendes
Cinematography
Renato Falcão
Editing
Harry Hitner
Distributor
20th Century Fox
Release date(s)
Rio
March 22, 2011 (Brazil)


April 15, 2011 (North America)
Rio 2
March 20, 2014 (Russia)
March 27, 2014 (Brazil)
April 4, 2014 (UK)
April 11, 2014 (Worldwide)
April 17, 2014 (Hong Kong)


Running time
Rio
96 minutes
Rio 2
101 minutes
RollerCoaster Tycoon
138 minutes
Country
Language
Budget
Rio
$90 million[1]
Rio 2
$103 million[2]
Gross
Rio
$484,635,760
Rio 2
$500,188,435
RollerCoaster Tycoon
TBA
MPAA Rating
G (both)
[Source]

Rio is a series of animated films and video games produced by Blue Sky Studios (defunct) and distributed by 20th Century Fox (now called 20th Century Studios).
Films
Rio
Main article: Rio
Rio, formerly promoted as Rio: The Movie, is a 2011 American 3D computer-animated musical adventure comedy film produced by Blue Sky Studios and directed by Carlos Saldanha. The title refers to the Brazilian city of Rio de Janeiro, where the film is set. The film features the voices of Jesse Eisenberg, Anne Hathaway, will.i.am, Jamie Foxx, George Lopez, Tracy Morgan, Jemaine Clement, Leslie Mann, Rodrigo Santoro, and Jake T. Austin. It tells the story of Blu (Eisenberg), a male blue macaw who is taken to Rio de Janeiro to mate with a female. He eventually falls in love with Jewel (Hathaway), a free-spirited macaw, and together they have to escape from being smuggled by Nigel (Clement), an evil cockatoo. The theme song, "Telling the World," was sung by Taio Cruz.
Saldanha developed his first story concept of Rio in 1995, in which a penguin is washed up in Rio. However, Saldanha learned of the production of the films Happy Feet and Surf's Up and changed the concept to involve macaws and their environments in Rio. He proposed his idea to Chris Wedge in 2006, and the project was set up at Blue Sky. The main voice actors were approached in 2009. During production, the crew visited Rio de Janeiro and also consulted with an expert on macaws at the Bronx Zoo to study their movements.
20th Century Fox released the film on March 22, 2011, in Brazil, and on April 15, 2011, in the United States. The film received generally positive reviews from film critics. Observers praised the visuals, voice acting, and music. The film was also a box office success, grossing over $484 million worldwide. The film was nominated for Academy Award for Best Original Song for the song "Real in Rio," but lost to the other nominee, "Man or Muppet," from The Muppets.[3]
Rio 2
Main article: Rio 2
"I think the plan is for the movie to come three or four months before the World Cup. The 2014 World Cup takes place in Brazil, where the original Rio was set. Fox has been talking about [it] and it looks like it's going to happen. We're going to have a meeting I think next week and Carlos is coming to town to tell us the story, and it looks like it's a go."
―Sérgio Mendes, January 15, 2012
Sérgio Mendes commented in January 2012 after his nomination for Best Original Song, saying that the film will most likely have a sequel and that Carlos Saldanha is planning it to be released in 2014 three to four months before the World Cup which will be held in Brazil.[4]
The plot of the sequel will tie into the 2014 FIFA World Cup, but the exact storyline has yet to be revealed by the film's producers. [5] Carlos Saldanha and Sérgio Mendes, along with others, met with each other a week after the film was announced, on February 1, 2012 to reveal the synopsis of the film to one another.[6] Sérgio Mendes will once again be creating new music for the sequel to the film, due to his Oscar nomination for his music in the first film.[7] John Powell will also return as the composer.[8] Saldanha revealed that no deal for a script has been made as of yet.[9] The sequel will be distributed by 20th Century Fox and animated by Blue Sky Studios.[10]
On April 7, 2012, Deadline.com reported that Jesse Eisenberg signed up to voice Blu once again.[11] Whereas Anne Hathaway has also signed on to reprise her role as Jewel.[12] Rodrigo Santoro has confirmed his return to voice ornithologist Tulio Monteiro, as well as hinting that the sequel's setting will involve more of the Amazon.[13] On February 22, 2013, Leslie Mann, Jake T. Austin, Jemaine Clement, Tracy Morgan, will.i.am, Jamie Foxx, George Lopez, and Bebel Gilberto have been confirmed to return as Linda, Fernando, Nigel, Luiz, Pedro, Nico, Rafael, and Eva. New cast members included Andy García, Bruno Mars, Kristin Chenoweth, Rita Moreno, Amandla Stenberg, Rachel Crow, Pierce Gagnon, Jeffrey Garcia, Natalie Morales, and Janelle Monáe.[8][14] Rachel stated on her Twitter account that she will voice Blu and Jewel's daughter.[15] John C. Donkin and Bruce Anderson are set to return as producers.[8][14] The film will also feature new Brazilian artists and original music by Janelle Monáe and The Wondaland Arts Society.[8][14]
According to one of the producers, the film has entered the storyboard stage, with two scenes involving Blu and Jewel's children having been mapped out, revealing that two of the chicks are female and one is male. Business Wire and ComingSoon.net also revealed the plot of the movie, which Blu, Jewel and their three kids leave their domesticated life in the magical city for a journey to the Amazon rainforest. When they arrive they come across Jewel's long-lost father Eduardo who is in hiding with a tribe of other Blue Macaws. At first everything seems perfect, but Blu is having trouble fitting in. Things get worse when they discover that the Amazon is under threat and that Blu and Jewel's old enemy, Nigel the cockatoo, is back for revenge.
Variety states that Saldanha had officially signed a 5-year deal with 20th Century Fox that allows him to helm live-action and/or animated films, with the sequel being part of that contractual agreement.[16]
On November 28, 2012, Don Rhymer, screenplay writer of the first film, died during the writing phase of the sequel, after a bout with cancer.[17]
On April 18, 2013, 20th Century Fox and Blue Sky unveiled the first teaser trailer at the annual Las Vegas, Nevada CinemaCon.[18][19] On May 15, 20th Century Fox posted the teaser on their YouTube channel, and Blue Sky Studios posted it on the official Rio channel.
On August 29, 2013, 20th Century Fox and Blue Sky Studios unveiled the theatrical trailer in San Francisco.
On September 24, 2013, 20th Century Fox and Blue Sky Studios unveiled a sneak peek.
On October 2, 2013, that same theatrical trailer was released online worldwide.
On December 12, 2013, the 3rd Rio 2 official trailer is released on iTunes preceding by the announcement from Rio official Facebook and Twitter.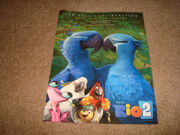 On December 26, 2013, a video clip of the New Year's Eve party in Rio 2 featuring the song "What Is Love" by Janelle Monáe was released online worldwide.
On December 31, 2013, a video clip showing Blu, Jewel, Nico, and Pedro counting down till midnight on New Year's Eve was released on YouTube.
On April 11, 2014, Rio 2 was released worldwide.
On January 15, 2015, Rio 2 did not get nominated for the Oscars.
Awards
Rio Awards
Rio was nominated for the following awards:
Rio: Performance in the Awards Season
Award
Category
Candidate
Result
Academy Awards (Oscar)
Hollywood Song Award
Best Achievement in Music Written for Motion Pictures, Original Song
Nominated
ALMA Awards
Favorite Movie
Rio (Movie)
Nominated
ASCAP Film and Television Music Awards
ASCAP Award
Top Box Office Films

John Powell Siedah Garrett Sergio Mendes

Winner
Academy of Science Fiction, Fantasy & Horror Films, USA
Saturn Award
Best Animated Film
Nominated
Alliance of Women Film Journalists
EDA Female Focus Award
Best Animated Female

Anne Hathaway "Jewel"

Nominated
Annie Awards
Annie
Character Animation in a Feature Production

Jeff Gabor

Winner
Annie Awards
Annie
Character Animation in a Feature Production

Patrik Puhala

Nominated
Annie Awards
Annie
Directing in a Feature Production

Sergio Pablo

Nominated
Annie Awards
Annie
Character Design in a Feature Production

Carlos Saldanha

Nominated
Annie Awards
Annie
Music in a Feature Production

Mikael Mutti Siedah Garrett Carlinhos Brown Sergio Mendes John Powell

Nominated
Annie
Production Design in a Feature Production

Thomas Cardone Kyle Macnaughton Peter Chan

Nominated
Annie
Voice Acting in a Feature Production

Jemaine Clement As the voice of Nigel

Nominated
Annie
Best Animated Feature

20th Century Fox Blue Sky Studios Twentieth Century Fox Animation

Nominated
Black Reel Awards
Black Reel

Best Song Jamie Foxx (Performer) Siedah Garrett (Writer) Carlinhos Brown (Writer) For "Fly Love"

Nominated
Behind the Voice Actors Awards
BTVA Feature Film Voice Acting Award

Best Female Vocal Performance in a Feature Film Anne Hathaway As the voice of Jewel

Nominated
Casting Society of America
Artios

Outstanding Achievement in Casting - Animation Feature Christian Kaplan (Feature Film)

Nominated
Cinema Brazil Grand Prize
Audience Award

Best Foreign-Language Film (Melhor Filme Estrangeiro) Carlos Saldanha

Winner
Cinema Brazil Grand Prize
Cinema Brazil Grand Prize

Best Foreign-Language Film (Melhor Filme Estrangeiro) Carlos Saldanha

Nominated
Denver Film Critics Society
DFCS Award

Best Animated Feature Film

Nominated
Rio 2 Awards
Rio 2 was nominated for the following awards:
Rio 2: Performance in the Awards Season
Award
Category
Candidate
Result
Hollywood Film Awards
Hollywood Song Award
Janelle Monae, "What is Love"
Winner
Golden Trailer Awards
Best Animation/Family
For the trailer "Survive"
Nominated
People's Choice Awards, USA
Favorite Family Movie
Rio 2
Nominated
Teen Choice Awards
Choice Movie: Animated
Rio 2
Nominated
Annie Awards
Outstanding Achievement, Character Design in an Animated Feature Production
Sang Jun Lee, Jason Sadler, José Manuel Fernandez Oli
Nominated
Annie Awards
Outstanding Achievement, Storyboarding in an Animated Feature Production
John Hurst, Rodrigo Castro
Nominated
Annie Awards
Outstanding Achievement, Voice Acting in an Animated Feature Production
Andy Garcia as the voice of Eduardo
Nominated
Satellite Awards
Best Original Song
Janelle Monae, "What is Love"
Nominated
BAFTA Awards
BAFTA Kids Vote - Feature Film
Rio 2: Carlos Saldanha, Bruce Anderson, John C. Donkin, Don Rhymer, Carlos Kotkin, Jenny Bicks, Yoni Brenner
Nominated
Black Reel Awards
Best Song
Janelle Monáe (Writer & Performer)

Roman GianArthur Irvin (Writer) For "What is Love"

Nominated
Black Reel Awards
Outstanding Original Song
Janelle Monáe (performer, writer)

Nate 'Rocket' Wonder (writer) Roman Gian, Arthur Irvin (writer) Song: "What is Love"

Nominated
Image Awards
Outstanding Character Voice-Over Performance
Jamie Foxx
Nominated
Kids Choise Awards
Favorite Animated Movie
Rio 2
Nominated
Cast and Characters
Note: A blank cell indicates the character was not in the film or in the case of upcoming installments, an actor or actress has yet to be determined.
Rio Rainforest Adventure
RIO: The 4-D Experience is a 12-minute theater presentation inspired by the 2011 film: Rio, which opened to the public on September 27th 2013.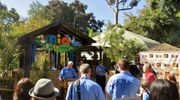 SimEx-Iwerks Entertainment partnered with Twentieth Century Fox Consumer Products and the San Diego Zoo to create the RIO Rainforest Adventure 4-D attraction. 
Mark Cornell, Senior Vice President of Attractions Development for SimEx-Iwerks Entertainment, said,  "This attraction was designed to take
the 4-D theater to the next level with a variety of species of macaws perched near the theater, interactive elements and branded characters to elevate guest experience as well as boost overall value and revenue for the San Diego Zoo."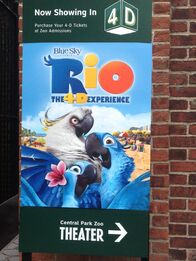 Greg Lombardo, Vice President of Global Location Based Entertainment Development at Fox Consumer Products, said, "Rio Rainforest Adventure is a great example of Twentieth Century Fox's long-term strategy of extending and enriching our relationship with fans of our movies in meaningful ways.  This attraction, set at one of America's top family destinations, demonstrates how entertainment can energize parents and kids through the wonder of the world around them."
In 2014 a similar 4D event was presented at Central Park Zoo in New York.
Future
Main article: Rio 3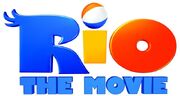 A spokesperson for 20th Century Fox said that the studio is interested in turning Rio into a franchise, which hints at the likely hood of further sequels,[20] at least a third film and a television series.
Director Carlos Saldanha has kept the possibility for a third film. He states, "Of course, I have a lot of stories to tell, so we're [starting to] prepare for it."[21]
In 2017, Saldanha focused his efforts on the adaptation of the classic story Ferdinand.
Copacabana Réveillon
Each New Year's Eve one event takes place in Rio and Copacabana Beach, famous for the amazing celebration and fireworks display. This event is called Réveillon de Copacabana. (Literally means New Year´s Eve in Copacabana).
Rio highlighted the city's beauty and major monuments including Christ, the Redeemer, Sugar Loaf Mountains and Lapa Aqueduct. Now the film series' two lead characters – the macaws Blu and Jewel – served as hosts to the 2.3 million people in Copacabana. This traditional New Year's Eve event was sponsored by Rio City Hall through Riotur.
In fact, one aspect of the display which used to add to its uniqueness is that the fireworks are launched from various barges in the ocean. 2014 Réveillon had a particular theme. Rio 2 was part of the celebration.
Three stages built especially for the event along Copacabana Beach, featured some 20 musical attractions, including actors and DJs. Three characters from the film — Nico, Pedro and Blu – lead the countdown to the arrival of 2014. "It is a wonderful opportunity for Fox. It is the first time a movie becomes the theme for Copacabana Réveillon," said Camila Pacheco, marketing director for Fox Film Brazil.
Fox announced they would broadcast the event for the US and Latin America on Fox. For the first 56 seconds of the show, fireworks were blue-colored representing Blu's arrival to Copacabana, and then the soundtrack of the film, composed by John Powell, was listened for 16 minutes.
During the 2017 Copacabana Reveillon, some songs from both films were used again during the show.
Videos
Rio 2 Film Promotion
During the 2014 Carnival season, a Rio 2 float paraded promoting the film.
One week before the international release of Rio 2 in theaters, 20th Century Fox Mexico organized an event promoting the film. A batucada paraded through the main streets of Mexico's capital city, Nico and Pedro appeared during the event and people received some Rio 2 souvenirs; the event lasted 4 hours for three days.
On March 21, 2014, a Colorful Premiere of Rio 2 took place in Miami Beach.
Merchandising
Rio Merchandising
Starting in April 2011, customers visiting Toys"R"Us stores across the United States had the chance to explore the world of Rio with the launch of an exclusive Rio merchandising program.
Together with Twentieth Century Fox Consumer Products, Toys"R"Us stores and Toysrus.com/Rio offered consumers a first look at one of the most anticipated family films of the year, with dozens of movie-inspired products, including an exclusive toy line, video games and books, including a 2.5´´ set of mini figures
The very well-known McDonald's happy meal  released a collectible set of Rio toys including the endangered Spix Macaws main characters Blu and Jewel, Luiz, the bumbling Bulldog, Pedro, the wise-cracking Crested Cardinal, Nico the handy Yellow Canary, Rafael, a joking Toucan pal and two foes: Nigel the Sulpher Crested Cockatoo and Mauro, leader of the marmoset monkey bandits. Some countries (Australia) included Eva and Kipo.
Along with the Angry Birds Rio game were a set of plush toys released including: Blu, Jewel, Nico, Pedro, Nigel, and six birds (Green Bird and Trapped Bird among them).
Many different products were released around the world:
Australia: Plush toys obtained in theaters.
Europe: Kinder Surprise brand released a set of toys including Rafael, Nico, Pedro, Blu, Jewel, Nigel, Luiz, and a marmoset.
Mexico: Sonrics candies´ brand released a set of keychains including Blu, Jewel, Rafael, and Luiz.
Colombia: Nucita brand released a set of spinners.
Worldwide: Nestle released an AR video game playable with a QR code found within the cereal boxes.
Rio Steelbook
A limited edition Blu-ray was released for China fans, only 1000 pieces were made.
Rio 2 Merchandising
Cinema Promos
Golden Link has revealed various sizes of popcorn and drinks packaging products all of which will be available and sold at the theater hit of Rio 2.
Grupo Saber Integrarse Company announced Popcorn and Drinks packaging products available in Latinamerican theaters along with the movie release.
Rio Merchandise
Rio also has a few cakes that are often seen in stores.
Other Cinema Promos
Rio 2 Products
Some months before Rio 2 international release several products started to appear including brands that offered special promotions featuring Rio 2. These products go from PEZ dispensers to snow globes. As well as before the international release, merchandise featuring the franchise continues to be distributed.
The Recreio Magazine ("Magazine Recreio" in Portuguese in Brazil) to promote the release of Rio 2 in Brazil, made ​​a special collection of dolls of characters from Rio 2 and Angry Birds. The launch is unique in Brazil.
Rio 2 UHU
UHU released for limited time Rio 2 themed UHU sticks and papercrafts in their website: http://www.b2s-uhu.com/en-us/papercrafts
Other Promos
Trix Promo
Burger King and Other Fast Food Promos
Jollibee Kids Meal and Hesburger Rio 2 Toys
The Phillipine Fast Food chain Jollibee released three Rio 2 toys.
Hesburger (Finland)
Finnish Fast food place Hesburger released six Rio 2 toys.
Carl's Jr Rio 2 Promo set
Rio Toys
Several Rio toys were released after the franchise began.
Xintai toys produced Blu, Jewel, and Rafael plush combo. Strangely however Blu is lighter than Jewel and Jewel is darker than him.
Rio 2 Toys
Several Rio 2 toys were released worldwide:
Jakks Pacific, Inc Produced a series of Rio 2 toys consisting in:
Sets including Blu, Jewel, Bia, Carla, Tiago, Nico, Pedro, Nigel, Gabi, and Luiz.
Blu and Jewel keychains
Blu and Jewel flying toys.
Sunny Brinquedos (Sunny Toy) released Rio 2 figure sets in Brazil. [22]
Toy.Ru made them available in Russia.
ToysRus released a series of exclusive toys including plush toys.
Kohls.com released a Blu, Gabi and Luiz plush toy, a 500 piece puzzle and a book named "Blu's Wild Journey" as exclusives to help kid's health and education initiatives nationwide.
My Busy Books Published a book/toy That is in Rio 2. It has a story, 12 figurines, and a playmat.
Rio 2 Devices
Pen Drive exclusive of Rio 2
A Pen Drive Kingston exclusive of movie Rio 2 was released worldwide. The Pen Drive has about 8 GB, coming along 3 trailers of Rio 2, 10 wallpapers, 8 covers for Facebook and 1 video clip. The limited edition of pen drive Rio 2 has suggested a price of  R$ 34.90 (in Brazil), 5-year warranty, free technical support site and has recognized the Kingston reliability.
General Characteristics
Model: DT 109 Rio2
Capacity: 8GB
Color: Black and Blue
Differential: exclusive special edition based on the movie Rio 2
Release date: March 2014
Kingston Rio 2 microSDHC
A Kingston microSDHC exclusive of Rio 2 was released worldwide. A 4 Gb storage card including 13 Rio 2 ringtones with the voices of Blu and other characters.
General Characteristics
Model: SDC4 Rio2
Capacity: 4GB
Color: Black
Differential: Exclusive special edition based on Rio 2
Release date: April 2014
Trivia
References
External links