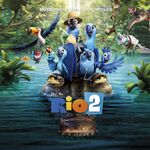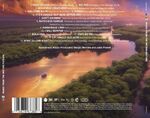 As the adventure widens from the city of Rio into the wild and untamed Amazon Rainforest, the director Carlos Saldanha has the intention of presenting the musical culture of Brazil thoroughly. Rio 2 soundtracks has brought together varieties of music styles from all over the country such as UAKTI and Barbartuques. All of the soundtracks are announced to be released under one album on March 25, 2014, by Atlantic Records [1][2].
So in Rio 2, it's on in the Amazon... But not only visually, but musically!
"We wanted to look at different musical 'flavors', sounds and exciting new beats that make the soundtrack for Rio 2 even bigger than the first film's."
In addition to the original 14 songs found in this disc, an exclusive version sold by Target included 2 bonus tracks: What is Love (The GoonRock Mix) and Angry Birds Rio 2's Theme (Barbatuques).
Song List
Songs
Songs in Order of Appearance in the Movie
What Is Love (Cast)
Ô Vida
Welcome Back
Beautiful Creatures
Don't Go Away
It's A Jungle Out Here (Featuring UAKTI)
I Will Survive
Bola Viva
Favo de Mel
Batucada Familia
Rio Rio
It's A Jungle Out Here
What Is Love
References
Community content is available under
CC-BY-SA
unless otherwise noted.