Rio, (originally promoted as Rio: The Movie), is a 2011 American 3-D computer-animated musical comedy film, produced by Blue Sky Studios and directed by Carlos Saldanha. The title refers to the Brazilian city of Rio de Janeiro, where the film is set. The film features the voices of Anne Hathaway,Jesse Eisenberg, will.i.am, Jamie Foxx, George Lopez, Tracy Morgan, Jemaine Clement, Leslie Mann, Rodrigo Santoro, and Jake T. Austin. It tells the story of Blu (Jesse Eisenberg), a male Spix's macaw who is taken to Rio de Janeiro to mate with a female to save their species. He meets Jewel (Anne Hathaway), a free-spirited macaw. The two eventually fall in love, and together they have to escape from being smuggled by Nigel (Jemaine Clement), an evil cockatoo, and the smugglers, Marcel, Armando, and Tipa who are humans. It was a huge box office success earning $484,635,760 worldwide, well over the $90,000,000 budget that was set. The credits song, "Telling the World", was performed by Taio Cruz. The music video for which features parts of the film as Blu and Jewel fall for each other, and indeed for Blu, Jewel is the one to live for.
Saldanha developed his first story concept of Rio in 1995, in which a penguin is washed up in Rio. However, Saldanha learned of the production of the films, Happy Feet and Surf's Up, and changed the concept to involve macaws and their environments in Rio. He proposed his idea to Chris Wedge in 2006, and the project was set up at Blue Sky Studios. The main voice actors were approached in 2009. During production, the crew visited Rio de Janeiro, for inspiration for the animation to recreate the atmosphere and vibe of the city, and also consulted with an expert on macaws at the Bronx Zoo to study their behavior.
20th Century Fox released the film on March 22, 2011, in Brazil and on April 15, 2011, in the United States. The film received generally favorable reviews from film critics. Observers praised the visuals, voice acting, and music. The film was also a box office success, grossing over $484 million worldwide. The film was nominated for an Academy Award for Best Original Song for the song, "Real in Rio", but lost to the another nominee, "Man or Muppet", from The Muppets.[2]
Plot
In Brazil, after celebrating Carnival, several exotic birds are smuggled out of the country. In Moose Lake, Minnesota, a crate with a male Spix's Macaw hatchling falls out of a truck and is found by a young girl, named Linda Gunderson, who names him "Blu". Over the course of 15 years, Linda takes care of Blu and grows up treating him as her true best friend and companion. Linda eventually owns a bookstore, named Blue Macaw Books, and Blu continues to live very happily and comfortably with his human companion. However, as a result of living a secluded life in a bookstore, Blu is very intelligent, but is socially awkward and still unable to fly, and is ridiculed by two Canada Geese, named Alice and Chloe, who frequently visit outside of the bookstore.
One day, in late winter, an ornithologist, named Tulio Monteiro, tells Linda that Blu is speculated to be the last male of his species, and advises that she and Blu come with him to Rio de Janeiro in order for Blu to meet a recently-found female of his species. Although reluctant at first, Linda eventually accepts, and they later arrive in Rio. On the trip with Linda and Tulio to the aviary where the female macaw was being held, Blu meets a Yellow Canary, named Nico, and his Red-crested Cardinal friend named Pedro, who give Blu advice on how to attract a female. Tulio explains to Linda that they have arrived in time for Carnival, "the biggest party in the world". At the aviary, Blu meets and falls in love with the female Spix's macaw, Jewel. Blu, taking Nico and Pedro's advice, tries to attract Jewel by being a "crazy love-hawk" and tries to kiss her. However, Jewel becomes angry at him since they "just met". She begins to physically attack Blu; Linda and Tulio assume that they are mating, and decide to give them privacy. Tulio leaves a guard, named Sylvio, to watch over the macaws, as he and Linda leave the aviary to go eat dinner at a restaurant. Later, Sylvio is attacked and rendered unconscious by a "patient" of the aviary, a Sulphur-crested Cockatoo named Nigel, who lets an impoverished orphan boy named Fernando into the aviary. While the macaws continue to not get along well, they are kidnapped by Fernando, who works for a group of smugglers led by a man named Marcel, who wants to leave the country as soon as possible to secure a black market deal regarding Blu and Jewel. Fernando is paid a paltry sum and gets sent away by Marcel, and he starts to have second thoughts about his actions. After Blu and Jewel are chained together and locked up in a cage with many other captured exotic birds, Nigel sings a song to them about how he vowed to cause pain to all "pretty birds" after his role on a television program had been replaced by one. Meanwhile, at the restaurant, as Linda and Tulio talk about their love for birds, Tulio receives a call from the aviary, and he and Linda discover that Blu and Jewel were stolen, and they soon decide to search for the macaws themselves. Back at the smugglers' hideout, Blu uses his knowledge from his domestic life to open their cage, and they escape. Nigel, along with Marcel's henchmen Armando and Tipa pursue them, but Blu and Jewel are able to flee into the jungle. They then spend the night at Vista Chinesa.
After Linda and Tulio spend the night handing out and posting "Lost" posters for Blu, Fernando feels guilty about stealing the macaws, and later meets Linda and Tulio, to help them locate the missing birds. Meanwhile, Blu and Jewel meet a family of Toco Toucans. The father, named Rafael, assumes that Blu and Jewel are "love-birds" who are heading for Carnival. Jewel denies it by claiming that they are only "chained-to-each-other birds", and asks him for help in removing the chain attached to their legs. Rafael then offers to take them to his friend, Luiz, to help them remove the chain, with permission from his authoritative mate, Eva. After Rafael learns that Blu can't fly, he brings them to the edge of a cliff to try to teach him. Rafael advises Blu, "When you feel the rhythm of your heart, it's like samba. You fly!" As Jewel sprints towards the edge, Blu still refuses to fly, and the two fall off the cliff. However, they are inadvertently saved by a hang glider, and as they are riding atop the hang glider, Blu becomes mesmerized by the view of the city. Rafael follows them, and Blu claims to feel like he's flying. He decides to spread his wings, and Blu and Jewel are blown off of the hang glider. They continue to bounce off of other hang gliders, volleyball net and from a woman's large buttocks which wiggled from the impact. They eventually crash-land onto a beach. Rafael finds them and decides to abandon the flying lesson. Afterwards the three ride a fruit truck in order to reach the fruit market where they expect to meet Luiz. They later meet Nico and Pedro at the fruit market and are told that Luiz had already took a trolley back to his garage. Meanwhile, Nigel is sent by Marcel to locate Blu and Jewel. Nigel then hires a horde of thieving marmosets to capture the macaws.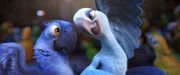 Nico and Pedro take Blu and Jewel to a Rio-style party for birds, where they perform a duet, and Jewel begins to have feelings for Blu. However, the marmosets track them down and attack them. Their bird friends fight off the marmosets, then the five are able to flee onto a trolley that would lead to Luiz's garage, with the help of a Roseate Spoonbill named Kipo. Meanwhile, Linda and Tulio are taken to the smugglers' hideout by Fernando. They notice that Blu and Jewel are gone, and Fernando admits that he is the one who captured them. Suddenly, Marcel's henchmen Armando and Tipa are heard approaching the hideout. Linda and Tulio hide and they hear the smugglers explain to Fernando that they will use the Carnival parade to hide the smuggling of the birds to a secluded airport. Tipa then decides that Fernando should also come to the parade with them.
At sunset, during the trolley ride to the garage, Rafael, Nico, and Pedro try to make the ride as romantic as possible for Blu and Jewel. After Pedro tries to sing a rap song for them, Nico tells him that his song was too aggressive, and Nico then decides to sing a slow love song, while Rafael tries to get Blu to compliment Jewel. However, Blu speaks to her very awkwardly, and then accidentally chokes on a falling flower pedal, causing Jewel to give him the Heimlich maneuver, ultimately ruining the moment. Later that night, Blu and the others meet Luiz, who turns out to be a Bulldog. After Jewel gets upset with Luiz's "medical condition" of drooling, his feelings are hurt, and he is reluctant to help her. However, Rafael is able to convince him to help remove the chain attached to the macaws. Luiz then plans to cut off the chain with a table saw (which if the macaws did come into contact with the saw, would've killed them). However, Blu and Jewel are hesitant about his plan, and as they are being pushed into the saw by Luiz, Jewel flies upward and grabs an overhead lamp, with Blu dangling beneath her, just above the saw. Jewel lets go of the lamp, and the chain lands in Luiz's mouth, with Luiz's head hanging over the side of the table. His drool lubricates the chain, and Blu and Jewel's feet are able to slide out of the chain's cuffs. Jewel is very relieved to be free, and she immediately flies out of the garage and into the air to celebrate, along with Rafael, Nico, and Pedro. Blu is also happy to be free, but becomes disappointed that he cannot be with Jewel anymore, and walks away to find Linda. Jewel notices him, and questions why he is leaving. Blu claims that he can't spend his life following her wherever she goes, and Jewel stubbornly points out that this is because he can't fly. The two begin to argue and then decide to go their separate ways, though they are both secretly upset about this. Rafael follows Blu, and Nico and Pedro follow Jewel, to try to convince the couple to make up. However, Jewel is ambushed and captured by Nigel. When Blu and Rafael learn from Nico and Pedro that Nigel had captured Jewel, they rush to the Carnival parade to rescue her, with the help of Luiz. Meanwhile, Linda and Tulio organize a rescue attempt for the birds.
Linda and Tulio pose as dancers in blue macaw costumes to find the smugglers' float hidden within the parade. Meanwhile, Nigel uses Jewel as bait to lure in Blu and the others. As Luiz becomes distracted by the parade, the birds are able to find the smugglers' float. Linda notices Blu and tries to follow him with Tulio. However, Blu and his friends are kidnapped and caged inside the float, by Nigel. Later, in the early morning, Marcel and the other smugglers arrive at the airport and load all of the captured birds into the cargo hold of a plane. Fernando is caught trying to free Blu and Jewel, by Marcel, and Fernando is forced to run away. As the smugglers' plane is about to take off, Linda and Tulio attempt to stop the smugglers by driving a float towards their plane. However, the smugglers are able to take off, and Linda and Tulio become deeply saddened that they have failed to save the macaws. However, during the flight, Blu escapes his cage using a packing cord and a fire extinguisher; he straps one end of the packing cord hanging from the ceiling to the extinguisher and the other end to the top of his cage. He slams himself against the side of his cage to knock the extinguisher off of its rack. The weight of the falling extinguisher causes the top of his cage to pop open, and he breaks free. He releases all of the captive birds and pulls a switch to open the hatch of the plane. All of the birds, excluding Blu and Jewel, then escape the plane and fly away. However, as Jewel tries to comfort Blu over his fear of flying, Nigel attacks Blu. Jewel tries to help Blu, but Nigel throws her aside, making a cage fall onto Jewel's wing, injuring it. As Nigel mocks them and has Blu pinned down, Blu notices that the fire extinguisher was under pressure from the fall. He manages to hook the fire extinguisher onto Nigel and sets it off, sending Nigel flying out of the plane's cockpit and into one of the propellers, causing the plane to fall. The smugglers then flee the plane by jumping out with one parachute. Unable to fly, Jewel slips out of the plane and falls towards the ocean. Blu then jumps out of the plane to rescue her. He catches Jewel, who calls him crazy for coming after her. He then tells her that he won't let her go, because they were "chained-to-each-other birds", and Jewel realizes that Blu loves her. Jewel passionately kisses Blu; he begins to feel the "rhythm of his heart", which suddenly gives him the courage to fly. Blu carries Jewel as he is flying, and soon finds Linda, Tulio, and Fernando at the airport. Tulio notices Jewel's broken wing and later heals her over the course of a certain amount of time. Linda and Tulio soon organize a sanctuary to protect the jungle from smugglers, they become married and adopt Fernando, and Linda opens a new bookstore, named Livraria Blu, in Rio. Blu and Jewel later become mates, raise three chicks, Bia, Carla, and Tiago, together, and celebrate their new life in the jungle with their bird friends.
Meanwhile, Nigel is revealed to have survived the plane crash, but has lost most of his feathers and is ridiculed by the marmoset's leader, Mauro, whom Nigel threatened with "flying lessons" when he hired him and the other marmosets to capture Blu and Jewel. During the credits, it is also shown that the smugglers have been sent to prison.
Cast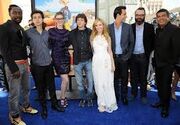 Animals
Humans
Trivia
Rio is the first Blue Sky Studios film to be a musical; however, it is the fourth film to have any characters singing any songs. The first being Robots, in which Fender sings a parody of "Singin' in the Rain" after saying goodbye to Loretta. The second being Ice Age: The Meltdown, in which a flock of vultures sings "Food, Glorious Food" to the main cast. The third being Horton Hears a Who, in which near the end, the major characters sing "Can't Fight this Feeling".
This film revived a G-rating.
Aip was made in order to appear at the Kids' Choice Awards in 2011 where Blu and Jewel presented one of the winners.
This is the second Blue Sky Studios film to get a G rating from the Motion Picture Association of America, the first being Horton Hears a Who.
A promotion in South America for Rio was made, the product being Rio Oreos.
The film was a box office success, making over $470,000,000 worldwide.
The DVD/Blu-Ray/Digital Disc Rio Trio Party Edition came out on August 2 in North America, July 7 in Brazil, and September 28 in Australia.
Rio is the first film to pass the $400 million mark in 2011.
The movie has several elements similar to Happy Feet (ex. both feature singing and dancing birds, the movie ending with the main male and female characters' offspring being seen, and some rude humor early on).
The Rio video game for PS3, Xbox 360, Wii, and Nintendo DS, came out on April 12, 2011.
A Puzzle game was released on December 10, 2011.
Rio is also the first Blue Sky Studios movie to feature modern humans; the people in the first Ice Age movie were Neanderthals.
Rio is the second Blue Sky Studios film in which the main character is first seen at a young age (the first was Robots).
Rio is the third Blue Sky Studios film to begin with the opening credits, after Robots and Horton Hears a Who.
This is the first and so far only Blue Sky Studios film to have the love interest kiss the main character.
Rio is the second movie by Blue Sky Studios and 20th Century Fox to be turned into a franchise, after Ice Age, which currently has five movies and nine short films.
Lead actor and actress, Jesse Eisenberg and Anne Hathaway both appeared in the short-lived series, Get Real, as brother and sister.
Rio ranked first at the box office surpassing the other worldwide released movie, Scream 4.
Presley, the last known wild Spix's Macaw, in reality, was known to have inspired Rio. [3]
Three people who voiced the three characters including George Lopez (Rafael), Anne Hathaway (Jewel), and Jamie Foxx (Nico) appeared on Valentine's Day.
Released the same year as 30 Minutes or Less, also starring Jesse Eisenberg.
In the sequence showing Linda and Blu's plane landing in Rio de Janeiro, they land on runway 20R at Santos Dumont Airport.
Easter Eggs
As Nigel tells Jewel and Blu about his movie career, there is a movie poster in the background titled "Fly Hard." This is a reference to Die Hard (1988).

A poster in the Smugglers' Den that promoted one of Nigel's movies in which he acted in, "Fly Hard", is also a reference to Die Hard.

A reference to Goldfinger (1964) is made when Nico throws his hat (a bottle cap) at the monkey holding onto the spoonbill that takes Blu and Jewel to the trolley — just like Oddjob in Goldfinger.
Pedro calls one of the marmosets "Little King Kong" as an insult. This references the film, King Kong (1933).
When Tulio and Linda dress up as Spix's Macaws to sneak into the parade, the truck they are behind has one of the chicken hats Marcel's minions made.
Tipa can be seen eating a watermelon at the beach when Blu and Jewel are on the rogue paraglider.
Marcel's office has a poster promoting skydiving. This might be a nod to a later part in the film, where they all jump out of a plane with one parachute.
Blu references The Wizard of Oz (1939) with the line, "There's no place like home."
A reference to The Great Dictator (1940) is made with Nigel and his globe during his song.
The film references Psycho (1960) with shrieking violins heard in certain scenes.
A reference to Garfield and Friends (1988) (TV series) is made where during "Real In Rio," a walking egg bearing a resemblance to Sheldon is shown.
A reference to the film, Fargo (1996), is made where a human character, Linda Gunderson, is a play on the Fargo characters, Marge Gunderson and Linda Cooksey. The story also begins in the small town of Moose Lake, Minnesota, which was the location of the cabin from the famous wood chipper scene.
A reference to American Idol (2002) (TV series) is made with Nigel's "South American Idol" line during his song.
There is a slight window at the beginning of the movie where you can hear Blu's voice.
Goofs
When Nico and Pedro are singing "Hot Wings (I Wanna Party)" at the club, in the introduction of the song, Nico can be heard saying, "My life," but neither Nico nor Pedro's beaks move.
At the beginning of the movie, during the first performance of "Real in Rio" the golden parakeet that baby Blu looks at has three chicks. She only throws two out of the nest then flies away with the newly flying chicks, leaving the third one in the nest.
When the bird sanctuary guard rips off his clothes and begins dancing, his wrists are bare, but when he is giving his report to the police officer, he has fluffy straps around his wrists, matching the ones he has on his ankles.
During the disco ball scene, Jewel's eyes are dark blue, but then so on, they are a dark green. At the ending scene with Tulio, though, they are light blue. In Rio 2, they are light green. This totals 4 eye color changes.
While Marcel is talking to the unknown buyer, he says "Au revoir.", which is French, not Portuguese.
The door to The Smugglers Hideout has no hinges on either side.
When Tulio visits Linda in Minnesota, there are two blue pens or pencils on the table. When Tulio throws Blu, the two pens or pencils have disappeared.
When Blu is standing on the makeshift light runway preparing an attempt to fly, the section of wire at the end of the runway is shown draped and absent of lights, but as he runs the wire changes, it is no longer draped and has no gap in the lights.
When the smugglers parachute out of the airplane, they are over the ocean, a good distance from the island; but in the credits, they are pictured floating past the funiculars going up the mountainside.
Linda serves Blu a cup of hot chocolate at the beginning of the film. Chocolate is toxic to Macaws.
When Blu is trying to fly at night in "Blue Macaw Books", the lamp behind him changes height between frames.
Carnival Floats in the Sambodromo Parade are not allowed to be self-propelled. In real life, they are always pushed by a crew.
Police cars in Rio de Janeiro are not numbered by just 5 digits. They consist of two digits followed by a dash followed by four digits (for example 12-1234).
Standard Brazilian license plates are light gray with black letters. They are composed of three letters followed by four letters (i.e. ABC-1234) as opposed to the three letters/three numbers shown in the movie.
Sulphur-crested cockatoos are native to Australia and are unknown in South America. However, Nigel is a house pet and it isn't beyond reason for the smugglers to have operated outside of Brazil.
Canaries are native to the Canary Islands and are not found in Brazil. However, it is possible that Nico is a domestic canary and escaped from a group of smugglers or a previous bird owner.
The plane with Linda and Blu lands at Santos-Dumont Airport. This airport currently does not have any international flights.
The woman in the cable car at the end of the film was also seen admiring Mauro earlier in the film.
When driving along the road as 'Let Me Take You To Rio' is playing, Blu's cage is on the opposite side to the sea in the vehicle, but when they reach the promenade, the cage appears to have teleported to the other side of the vehicle.
When the smugglers' plane hits the float, the landing gear is broken off but is seen intact as the plane flies on.
Also during the float scene, the airplane is much farther than it should've been when they started to lift off, and most likely would have hit it if not for this error. Also, to achieve correct liftoff, planes start to pull up much earlier than in the film. And another thing, planes have a certain altitude control that prevents them from lifting at such a steep angle too fast. Technically speaking, the plane would've hit the float dead-on instead. (However, this would've coincided with later movie events)
Altered or Removed Scenes from the film that are found in the Junior Novel
Instead of Alice and Chloe mocking Blu, the doorbell rings and Linda wins Jenga Blocks (due to Blu's shock).
Trucks came into the forest after the capturing in Real in Rio Celebration.
Tulio shows a video to Linda how he found out about Blu.
Blu gasped and asked himself he was the last of his kind.
Linda told Tulio that the winters were pretty long and there was not much to do for fun.
The quotes from Blu's flying plan off the table were different.
Nico and Pedro did not give advice on girls.
Blu did not say "get well soon" towards Nigel.
Tulio asked Blu if he was ready to meet his new girlfriend.
Instead of speaking Portuguese in Blu's entrance she spoke English and after he was strangled she said sorry.
Jewel strangled him and he tried to explain the reason why he was there.
Blu was trying to explain to Jewel that all that matters to him is that he trusts Linda.
Jewel told Blu that the smugglers were after them even though there was commotion and needed to run.
Blu told Jewel she bet she did not know how to speak dog.
After Blu said there were forty species of flightless birds instead of "Duck" she said "And you're not one of them"
Sequels
Main article: Rio 2
Sérgio Mendes commented in January 2012 his nomination for Best Original Song, saying, that the film will most likely have a sequel and that Carlos Saldanha is planning it to be released in 2014 three to four months before the World Cup which will be held in Brazil.[4]

The plot of the sequel will tie into the 2014 FIFA World Cup, but the exact storyline has yet to be revealed by the film's producers. [5] Carlos Saldanha and Sérgio Mendes, along with others, met with each other a week after the film was announced, on February 1, 2012, to reveal the synopsis of the film to one another. [6] Sérgio Mendes will once again be creating new music for the sequel to the film, due to his Oscar nomination for his music in the first film. [7] Saldanha revealed that no deal for a script or deals have been made with studios about the film as of yet. [8] The sequel will be distributed by 20th Century Fox and animated by Blue Sky Studios.[9]
A spokesperson from 20th Century Fox has said that no deals with actors have been made yet [10], and that the studio is interested in turning Rio into a franchise, which hints at further sequels.
Gallery
Main article: Rio/Gallery
Videos
Behind the Scenes
Clips
Storyboards
References