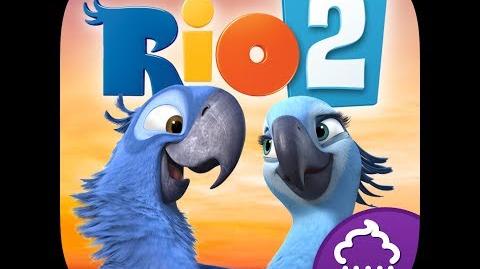 RIO 2 is a mobile application launched by Cupcake Digital, inc. based on its featured Rio 2. It's the official app for the movie developed under the partnership with 20th Century Fox and Blue Sky Studios. This application will guide you through the journey of Blu and his friends and family with colorful images and original fun-filled games based on the movie.
The application supports both Android devices and iOS. The feature inside includes the following.
Narrated story of Rio 2 featuring your favorite characters
5-Level Sky Soccer Game
Whack-a-Monkey Game
Fruit Crusher
Characters Coloring Activity
Characters Coloring
Paint coloring pages into fantastic masterpieces using a variety of tools and stickers!
Sky Soccer
Play all the 5 soccer levels trying to score goals with Blu!
Fruit Crusher
Match tropical fruits to win points!
Whack a Monkey
Tap away at those pesky monkeys, but avoid Luiz (the nice doggie!).
See also
Gallery
Relevant Links