The Mysterious Dealer is a minor character in Rio. In the movie, he plans on hiring smugglers to capture exotic birds and pay them the money for their debt. The leader of them is Marcel, alongside his henchmen, Tipa and Armando.
Appearance
The only appearance of the Mysterious Dealer was a telephone talk with Marcel. At the end of the talk, Marcel says "Au revoir" (meaning "Goodbye"), so it can be assumed that the dealer comes from a country where French is the national language, but it is unknown if Marcel said that to him on purpose to tell him goodbye or to speak a word in his language.
Personality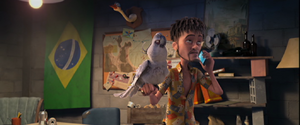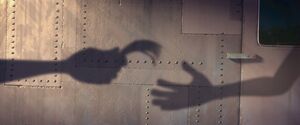 His personality is also unknown, but can be speculated due to how Marcel is reacting while talking to him. Marcel is talking to him angrily on the phone, so the Mysterious Dealer could be arrogant, furious, angry, or selfish. He wants the money so much and will do anything for his fortune.
Trivia
It is unknown if the shadow shown giving money to someone else in the beginning of the film belongs to the Mysterious Dealer.
Marcel's words to the Mysterious Dealer
"Yes, you were very clear. Tomorrow or the deal is off."
"Of course I have both the macaws."
"Yes, I will deliver them myself."
"Au revoir." (meaning "Goodbye")
Community content is available under
CC-BY-SA
unless otherwise noted.