State of Minnesota

L'Étoile du Nord (French: The Star of the North)

Nickname(s):

The North Star State
Land of 10,000 Lakes
The Gopher State
The Bread and Butter State
The Wheat State
New England of the West

Demonym

Minnesotan

Capital

St. Paul

Largest city

Minneapolis

Largest metro area

Minneapolis-Saint Paul

Flag

Seal
Minnesota
is the 32nd state of the United States of America. It has several nicknames, such as the
Land of 10,000 Lakes
and
The North Star State
. Before the beginning of
Rio
,
Blu
and
Linda
lived in a book store called
Blue Macaw Books
in the town of
Moose Lake
, Minnesota. The twelfth largest state of the U.S., it is the twenty-first most populous, with 5.57 million residents. Minnesota was carved out of the eastern half of the Minnesota Territory and admitted to the Union as the thirty-second state on May 11, 1858. Also known as the
Land of 10,000 Lakes
, the state's name comes from a Dakota word for "sky-tinted water". Those waters, together with forests, parks, and wilderness areas, offer residents and tourists a variety of outdoor recreational opportunities.
Nearly 60% of Minnesota's residents live in the Minneapolis-Saint Paul metropolitan area known as the "Twin Cities", the center of transportation, business, industry and education, and home to an internationally known arts community. The remainder of the state consists of western prairies now given over to intensive agriculture; deciduous forests in the southeast, now cleared, farmed and settled; and the less populated North Woods, used for mining, forestry, and recreation.
Minnesota is known for its relatively liberal social and political orientation and has a high rate of civic participation and voter turnout. Minnesota ranks among the healthiest states and has a highly literate population. The large majority of residents are of Scandinavian and German descent. The state is known as a center of Scandinavian American culture. Ethnic diversity has increased in recent decades. Substantial influxes of African, Asian, and Latin American immigrants have joined the descendants of European immigrants and the original Native American inhabitants.
Minnesota is about 20 miles North-west from Blue Sky Studios, the creators of Rio. The state is also famous for its cheese.
It is very cold all year round. It's questionable how geese like Alice and Chloe can handle cold weather but they were Canadian geese, so they will likely be able to survive.
On average, Moose Lake can get as cold as 0-7 degrees Fahrenheit in the winter. But there are some records that were so cold of making the weather -53 degrees.
Minnesota has also been known to have a lot of tornados. They usually happen at least once a month, some in different areas.
Etymology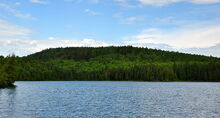 The word Minnesota comes from the Dakota name for the Minnesota River: The river got its name from one of two words in the Dakota language, 'Mní sóta' which means "clear blue water", or 'Mnißota', which means cloudy water. Native Americans demonstrated the name to early settlers by dropping milk into water and calling it mnisota. Many places in the state have similar names, such as Minnehaha Falls ("curling water" or waterfall), Minneiska ("white water"), Minneota ("much water"), Minnetonka ("big water"), Minnetrista ("crooked water"), and Minneapolis, a combination of mni and polis, the Greek word for "city".
Geography
Minnesota is the second northernmost U.S. state (after Alaska) and northernmost contiguous state. Its isolated Northwest Angle in Lake of the Woods County is the only part of the 48 contiguous states lying north of the 49th parallel. The state is part of the U.S. region known as the Upper Midwest and part of North America's Great Lakes Region. It shares a Lake Superior water border with Michigan and a land and water border with Wisconsin to the east. Iowa is to the south, North Dakota and South Dakota are to the west, and the Canadian provinces of Ontario and Manitoba are to the north. With 86,943 square miles (225,180 km2), or approximately 2.25% of the United States, Minnesota is the 12th-largest state.
Minnesota has some of the earth's oldest rocks, gneisses that are about 3.6 billion years old (80% as old as the planet).[15][16]About 2.7 billion years ago, basaltic lava poured out of cracks in the floor of the primordial ocean; the remains of this volcanic rock formed the Canadian Shield in northeast Minnesota.[15][17] The roots of these volcanic mountains and the action of Precambrian seas formed the Iron Range of northern Minnesota. Following a period of volcanism 1.1 billion years ago, Minnesota's geological activity has been more subdued, with no volcanism or mountain formation, but with repeated incursions of the sea, which left behind multiple strata of sedimentary rock.[15]
In more recent times, massive ice sheets at least one kilometer thick ravaged the state's landscape and sculpted its terrain.[15] The Wisconsin glaciation left 12,000 years ago.[15] These glaciers covered all of Minnesota except the far southeast, an area characterized by steep hills and streams that cut into the bedrock. This area is known as the Driftless Zone for its absence of glacial drift.[18] Much of the remainder of the state outside the northeast has 50 feet (15 m) or more of glacial till left behind as the last glaciers retreated. Gigantic Lake Agassiz formed in the northwest 13,000 years ago. Its bed created the fertile Red River valley, and its outflow, glacial River Warren, carved the valley of the Minnesota River and the Upper Mississippi downstream from Fort Snelling.[15] Minnesota is geologically quiet today; it experiences earthquakes infrequently, and most of them are minor.[19]
The state's high point is Eagle Mountain at 2,301 feet (701 m), which is only 13 miles (21 km) away from the low of 601 feet (183 m) at the shore of Lake Superior.[17][20]Notwithstanding dramatic local differences in elevation, much of the state is a gently rolling peneplain.[15]
Two major drainage divides meet in Minnesota's northeast in rural Hibbing, forming a triple watershed. Precipitation can follow the Mississippi River south to the Gulf of Mexico, the Saint Lawrence Seaway east to the Atlantic Ocean, or the Hudson Bay watershed to the Arctic Ocean.[21]
The state's nickname, "Land of 10,000 Lakes", is apt, as there are 11,842 Minnesota lakes over 10 acres (4 ha) in size.[22] Minnesota's portion of Lake Superior is the largest at 962,700 acres (389,600 ha; 3,896 km2) and deepest (at 1,290 ft (390 m)) body of water in the state.[22] Minnesota has 6,564 natural rivers and streams that cumulatively flow for 69,000 miles (111,000 km).[22] The Mississippi River begins its journey from its headwaters at Lake Itasca and crosses the Iowa border 680 miles (1,090 km) downstream.[22] It is joined by the Minnesota River at Fort Snelling, by the St. Croix River near Hastings, by the Chippewa River at Wabasha, and by many smaller streams. The Red River, in the bed of glacial Lake Agassiz, drains the northwest part of the state northward toward Canada's Hudson Bay. Approximately 10.6 million acres (4,300,000 ha; 43,000 km2) of wetlands are within Minnesota's borders, the most of any state except Alaska.[23]
Trivia
In Minnesota, they say "cheese and sprinkles", as mentioned by Blu which confused all the other Brazilian birds which is why Blu said: "It's a Minnesota thing." afterwardsss.
Persely formerly lived in Colorado, which might explain why they used Minnesota as Blu's home.

For conservation purposes, Persely was brought to a zoo in Brazil to breed, just like Blu.
But unlike Blu, he was sent to Sao Paulo

Hot chocolate is a common tradition in cold places like Minnesota, however even though Blu is seen drinking hot chocolate, in real life it is toxic to all animals including birds. 

The scene could have been added however so Alice & Chloe could mock him.
He also had a total of six cookies with his hot chocolate, and most humans get stuffed and don't feel well after eating too much.
Because Minnesota is so cold in real life it is questionable if geese could live in this area but Alice and Chloe were Canada Geese.
Gallery
Main article: Minnesota/Gallery
Community content is available under
CC-BY-SA
unless otherwise noted.