Magnificent Frigate Bird
Background information
Taxonomy
Bird
Status
Least Concern
Range
The Americas, Europe
Habitat
Rainforest
Feathers, fur
Black feathers and inflatable red throat pouches (male)
Black feathers with white chest and lower neck sides with brown band on wings (female)
[Source]

The Maginificent Frigate Bird (Fregata magnificens), previously known as Man O'War or Man of War, is a widespread species of bird.
It is widespread in the tropical Atlantic, breeding colonially in trees in Florida, the Caribbean and Cape Verde Islands. It also breeds along the Pacific coast of the Americas from Mexico to Ecuador including the Galápagos Islands. It has been found as far as the Isle of Man, Denmark, Spain, England, and British Columbia.
It feeds on fish, although it may attack other seabirds to steal their catch.
Description
The Magnificent Frigatebird is 100 cm (39 in) long with a 215 cm (85 in) wingspan. Males are all-black with a scarlet throat pouch that is inflated like a balloon in the breeding season. Although the feathers are black, the scapular feathers produce a purple iridescence when they reflect sunlight, in contrast to the male Great Frigatebird's green sheen. Females are black, but have a white breast and lower neck sides, a brown band on the wings, and a blue eye-ring that is diagnostic of the female of the species. Immature birds have a white head and underparts.
This species is very similar to the other frigatebirds and is similarly sized to all but the Lesser Frigatebird. However, it lacks a white axillary spur, and juveniles show a distinctive diamond-shaped belly patch.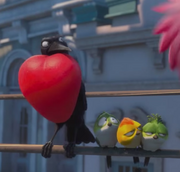 Community content is available under
CC-BY-SA
unless otherwise noted.