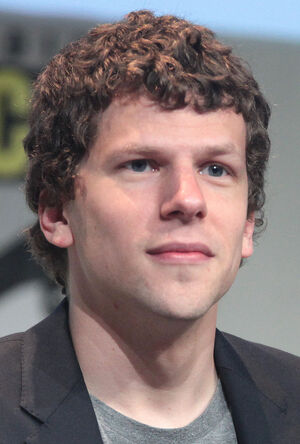 Jesse Adam Eisenberg (born October 5, 1983) is an American actor, voice artist, and comedian. He made his screen debut with the comedy-drama television series Get Real from 1999 to 2000. After his first leading role in the film Roger Dodger in 2002, Eisenberg appeared in such films as The Squid and the Whale in 2005 and The Education of Charlie Banks in 2007.
In 2004, Eisenberg was honored with the Vail Film Festival Rising Star Award. In 2009, he starred in the comedy drama
Adventureland
and the horror comedy
Zombieland
, for which he won critical acclaim. He then played Facebook co-founder Mark Zuckerberg in
The Social Network
(2010), for which he received a Golden Globe and Academy Award nomination in the Best Actor category. He also starred in
Holy Rollers
(2010), which was nominated for the Grand Jury Prize at the 2010 Sundance Film Festival. Since then, he has voiced the main character in the animated film
Rio
in 2011, and starred in the comedy
30 Minutes or Less
, also in 2011 and voiced Blu once again in
Rio 2
, which was released in April 2014.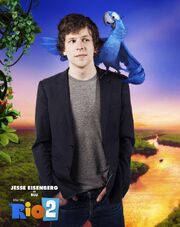 Early life
Eisenberg was born Jesse Adam Eisenberg in Queens, New York City on October 5, 1983. His father Barry Eisenberg ran a hospital and later became a college professor and his mother Amy (née Fishman) worked as a clown at children's parties. He has two siblings, Hallie Kate Eisenberg, a former child actress who was once famous as the "Pepsi girl" in a series of commercials, and Kerri. He was raised in a secular Jewish family that originated in Poland and Ukraine. Eisenberg grew up in Queens and East Brunswick Township, New Jersey, attending the East Brunswick Public Schools at Frost School, Hammarskjold Middle School, Churchill Junior High School, and spending his sophomore year at East Brunswick High School.
Eisenberg struggled to fit in at school and began acting in plays at the age of 10, stating "when playing a role, I would feel more comfortable, as you're given a prescribed way of behaving." Eisenberg studied contemporary architecture at The New School in New York City's Greenwich Village neighborhood. Originally, he had applied and was accepted to New York University, but declined enrollment in order to complete a film role.
Career
Eisenberg's first professional role was in Arje Shaw's off-Broadway play,
The Gathering
. Eisenberg made his Broadway debut as an understudy in a 1996 revival of
Summer and Smoke
. He made his screen debut in the 1999 television series
Get Real
, which was canceled in 2000. In 2001, Eisenberg appeared in a Dr. Pepper commercial in the UK. After appearing in the made-for-television film
Lightning: Fire from the Sky
, he starred in the independent film
Roger Dodger
(for which he won an award at the San Diego film festival), and in
The Emperor's Club
, both of which were released in 2002 to generally positive reviews.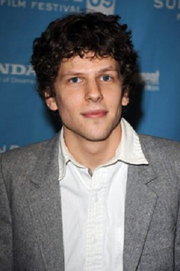 In 2005, Eisenberg appeared in Cursed, a horror film directed by Wes Craven, and The Squid and the Whale, a well-reviewed independent drama also starring Laura Linney and Jeff Daniels. In 2007, he starred opposite Richard Gere and Terrence Howard in The Hunting Party, a comic thriller in which he plays a young journalist in Bosnia. In 2009, Eisenberg played the lead role in Adventureland, a comedy directed by Greg Mottola and filmed in Kennywood Park near Pittsburgh, Pennsylvania. Filming ended in October 2007, and the movie premiered at the Sundance Film Festival in 2009. In November 2007, Eisenberg was cast in the indie comic-drama Holy Rollers. He played a young Hasidic Jew who gets lured into becoming an ecstasy dealer. Filming took place in New York in 2008. During the late 2000s, he also had roles in the independent films Solitary Man, Playing Cheston, and Camp Hope, a horror film directed by George Van Buskirk.
Eisenberg's breakthrough starring role was as the neurotic Columbus in Zombieland. The horror comedy, which paired him with Woody Harrelson on a roadtrip through a post-zombie apocalypse America, was a surprise hit. In 2010, he starred alongside Andrew Garfield in the role of Facebook creator Mark Zuckerberg in the film The Social Network, for which he earned the Best Actor Award from the National Board of Review of Motion Pictures, and nominations for Best Actor at the Golden Globes and Academy Awards.
On November 22, 2010, Eisenberg was honored, along with Whoopi Goldberg, Joycelyn Engle and Harvey Krueger, at the Children at Heart Celebrity Dinner Gala and Fantasy Auction, to benefit The Children of Chernobyl. Steven Spielberg is Chair of the event each year. On January 29, 2011, Eisenberg hosted Saturday Night Live on NBC, with musical guest Nicki Minaj. During his opening monologue, Eisenberg was joined by Facebook creator Mark Zuckerberg.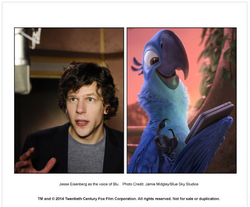 In 2011, he starred in the box-office animated hit
Rio
, as the main character
Blu
, a
Spix's Macaw
who learns how to fly, starring alongside
Anne Hathaway
, his former co-star (and onscreen sibling) from
Get Real
,
George Lopez
,
Jake T. Austin
,
Tracy Morgan
,
Jemaine Clement
,
Leslie Mann
,
Rodrigo Santoro
,
will.i.am
, and
Jamie Foxx
. He contributed his singing voice for one of the songs in the soundtrack, "
Real in Rio
". He also starred in
30 Minutes or Less
, released August 2011.
In October 2011, Eisenberg made his playwriting debut Off-Broadway in Rattlestick Playwrights Theater's production of Asuncion, presented at Cherry Lane Theatre. Eisenberg also acted in the play that was directed by Kip Fagan. The play highlights two liberal-minded friends whose assumptions are challenged by their new Filipina roommate, played by Camille Mana.
In 2012, he starred alongside Melissa Leo in Why Stop Now, a drama about a drug addict mother and her piano prodigy son and in the romantic comedy Nero Fiddled. Also in 2012, he filed a $3 million dollar lawsuit claiming he was exploited by the producers of the direct-to-DVD movie, Camp Hell. According to the lawsuit, in 2007 Eisenberg agreed to appear in Camp Hell as a favor to his friends. He was on set for only one day of filming, and logged only a few minutes of total screen time. Because he was only minimally involved in the movie, he was surprised to see that his face was prominently featured on the cover of the DVD, implying that he starred in the film. His lawsuit asserts various California law causes of action, including claims for unfair business practices and publicity rights.
Eisenberg plans to write for stage and screen. He has joined the cast of Richard Ayoade's comedy, The Double, set to shoot in spring or summer 2012. Deadline.com reported that he has signed up to reprise his role as Blu in Rio 2, which was released April 2014.[1]
Personal life
Eisenberg is fond of cats and has been involved in fostering the animals. He has been associated with Farm Sanctuary and has presented at several of their galas. Eisenberg has mentioned that he has obsessive–compulsive disorder. He has also mentioned enjoying riding his bicycle in New York City.
While filming The Hunting Party in Bosnia and Herzegovina in 2006, Eisenberg came up with an idea for a simple wordplay website where people could respond to a daily wordplay topic in an attempt to "one-up" each other in the cleverness of their response. He turned to his first cousin, Eric Fisher, who, incidentally, most recently was the Social Design evangelist at Facebook, to create the site, while the userbase is built solely off Facebook.
Quotes
"Rio 2 doesn't feel like an extension of the first film; it's something totally different. And I love playing Blu because he's such a funny and sweet guy."
"Eduardo is very strict with Blu and is unhappy he has so many ties to human and human things, like his ever-present fanny pack and GPS system."
"He's definitely in his comfort zone, living large and like a human."
"Blu not only feels out of place in the jungle, he feels out of place with this entire flock of birds who share his DNA, but none of his lifestyle choices."
"Roberto and Jewel have a history and an almost secret language. So Blu feels not only threatened by Roberto, but is frustrated because Roberto seems like the perfect guy. Everything he does is heroic – and he's a great singer!"
"Eduardo's very loving to... it seems like everybody in the Tribe, except for Blu."
"Blu not only feels out of place in the jungle, but with this particular type of birds,"
"Roberto seems like, the perfect guy. Everything he does is pretty frustrating to Blu."
Filmography
Film and television credits
Year
Title
Role
Notes
1999
Get Real
Kenny Green
Television series - 22 Episodes (2 unaired)
Nominated — Young Artist Award for Best Performance in a TV Series – Young Ensemble
2001
Lightning: Fire from the Sky
Eric Dobbs
TV Movie
2002
Roger Dodger
Nick
San Diego Jewish Film Festival Award for Most Promising New Actor
The Emperor's Club
Louis Masoudi
2004
The Village
Jamison
2005
The Squid and the Whale
Walt Berkman
Gotham Award for Best Ensemble Cast
Nominated — Broadcast Film Critics Association Award for Best Young Performer
Nominated — Chlotrudis Award for Best Supporting Actor
Nominated —Independent Spirit Award for Best Supporting Male
2005
Cursed
Jimmy Myers
2007
The Education of Charlie Banks
Charlie Banks
The Hunting Party
Benjamin Strauss
One Day Like Rain
Mark
The Living Wake
Mills Joaquin
Rising Star Award at the Vail Film Festival
2009
Some Boys Don't Leave
Boy
Short film
Adventureland
James Brennan
Nominated — Gotham Award for Best Ensemble Cast
Nominated — Teen Choice Award for Choice Movie: Breakout Male (also for Zombieland)
Zombieland
Columbus
First film with Ruben Fleischer
Scream Award for Best Ensemble
Nominated — Detroit Film Critics Society Award for Best Cast
Nominated — MTV Movie Award for Best Frightened Performance
Nominated — Teen Choice Award for Choice Movie: Breakout Male (also for Adventureland)
2010
Holy Rollers
Sam Gold
Camp Hope
Daniel
Solitary Man
Daniel Cheston
The Social Network
Mark Zuckerberg
Boston Society of Film Critics Award for Best Actor
Hollywood Film Festival Award for Ensemble of the Year
Houston Film Critics Society Award for Best Actor
National Board of Review Award for Best Actor
National Society of Film Critics Award for Best Actor
Oklahoma Film Critics Circle Award for Best Actor
Toronto Film Critics Association Award for Best Actor
Nominated — Academy Award for Best Actor
Nominated — BAFTA Award for Best Actor in a Leading Role
Nominated — Broadcast Film Critics Association Award for Best Actor
Nominated — Chicago Film Critics Association Award for Best Actor
Nominated — Dallas-Fort Worth Film Critics Association Award for Best Actor
Nominated — Detroit Film Critics Society Award for Best Actor
Nominated — Empire Award for Best Actor
Nominated — Golden Globe Award for Best Actor – Motion Picture Drama
Nominated — Indiana Film Critics Association Award for Best Actor
Nominated — Irish Film and Television Award for Best International Actor
Nominated — London Critics Circle Film Award for Actor of the Year
Nominated — MTV Movie Award for Best Male Performance
Nominated — MTV Movie Award for Best Line from a Movie
Nominated — Online Film Critics Society Award for Best Actor
Nominated — Palm Springs International Film Festival for Ensemble Cast
Nominated — Phoenix Film Critics Society Award for Best Actor
Nominated — Phoenix Film Critics Society Award for Best Cast
Nominated — San Diego Film Critis Society Award for Best Actor
Nominated — San Diego Film Critics Society Award]] for Best Ensemble Performance
Nominated — Satellite Award for Best Actor – Motion Picture Drama
Nominated — Screen Actors Guild Award for Outstanding Performance by a Male Actor in a Leading Role
Nominated — Screen Actors Guild Award for Outstanding Performance by a Cast in a Motion Picture
Nominated — St. Louis Gateway Film Critics Association Award for Best Actor
Nominated — Teen Choice Award for Actor Drama
Nominated — Utah Film Critics Association Award for Best Actor
Nominated — Washington D.C. Area Film Critics Association Award for Best Actor
Nominated — Washington D.C. Area Film Critics Association Award for Best Ensemble
2011
Rio
Blu
Voice role
30 Minutes or Less
Nick Davis
Second film with Ruben Fleischer
Saturday Night Live
Himself
Guest host
2012
Why Stop Now
Eli Bloom
Free Samples
Tex
To Rome with Love
Jack
The Newsroom
Eric Neal
TV Series - 1 Episode
Voice role (Uncredited cameo)
2013
Now You See Me
Atlas
Night Moves
The Double
2014
Rio 2
Blu
Voice
2016
Now You See Me 2
Atlas
References
External links