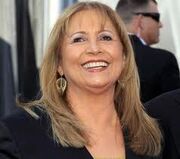 Gracinha Leporace
is a female
Brazilian
singer known most notably for her work with her husband
Sérgio Mendes
and his band. She has featured regularly in much of the group's releases over the last four decades and, most recently, can be heard as the Portuguese-singing female vocal in the hit
Mas Que Nada
(featuring
The Black Eyed Peas
) from the 2006 album Timeless and in the Baden Powell de Aquino composition Berimbau/Consolação from the same album, in which she provides the lead vocal.
Born Maria Da Graca Leporace, in 1949, in the suberb of Rio known as Ipanema. Gracinha also has a sibling Marianna Leporace who is a singer and actress in Brazil. Along with her work with Sergio Mendes, she was a member of the Bossa Nova group known in the early '70's as Bossa Rio.
She is the second wife of Sergio Mendes with whom she has two sons, Gustavo and Tiago. They currently reside in a suburb of Los Angeles, California. She provided her voice to the 2011 animated film Rio as Dr. Barbossa, as well as singing a remix of Mas que Nada.
Discography
1968 Gracinha Leporace, Philips