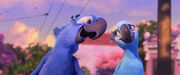 "Fly Love" is the sixth song featured in the soundtrack of Rio.
It was performed in the film by Nico to "set the mood" for Blu and Jewel during their trolley ride to Luiz's garage. He is interrupted halfway through when Pedro alerts him to the fact that Blu is choking on a flower petal.
The English version is sung by Jamie Foxx. And in the Latin American versions (including Spanish and Portuguese), Nico sings the Portuguese version of the song, "Ararinha" ("Little Macaw" in English), sung by Carlinhos Brown.
Lyrics
Wasn't really thinkin', wasn't lookin', wasn't searching
For an answer...
In the moonlight...
When I saw your face...
Saw you lookin' at me
Saw you peeking out from under Moon beams
Through the palm trees
Swayin' in the breeze...
I know... I'm feelin' so much more than ever before
And so... I'm giving more to you than I though I could do
Don't know how it happened, don't know why,
But you don't really need a reason
When the stars shine
Just to fall in love...
Made to love each other, made to be together,
For a life time
In the sunshine
Flying in the sky
I know... I'm feelin' so much more than ever before
And so... I'm giving more to you than I thought I could do...
Ooh...
Now I know love is real
So when sky high, as the angels try
Letting you and I
Fly love...
Ararinha (Portuguese Lyrics)
Ela samba, ela canta
Ela anda, na ponta dos pés
Ela é minha cara, ela e jóia rara
Ela é linda, ararinha, é o meu amor
Vou batendo asas na alma, quando vôo
E vejo Cristo aos meus pés, redentor
Ela é minha, ela sabe a gíria
Ela gira, ela ginga, é como uma flor
Ela brinca, ela sai na brisa, ela anima
Ararinha, é o meu amor
O sol a esquentar a pena, na canção
O chão só quer achar o céu na vida
Só com ela eu sou, ela é meu amor
Fly love
Ararinha (Translation)
She jumps, she knows where to go,
She samba, she sings
She walks on tippytoes
She's just my style, she's a rare jewel
She's beautiful, little macaw, she's my love
I´m flapping the wings of the soul, when I go
And at my feet I see Christ, the Redeemer
She's mine, she knows the slang
She spins, she swings, just like a flower
She plays, she goes by the breeze, she brightens everyone up
Little macaw is my love
The sun warming up the feathers, in the song
The floor just wants to find heaven in life
I only AM with her, she is my love
Fly love
Community content is available under
CC-BY-SA
unless otherwise noted.