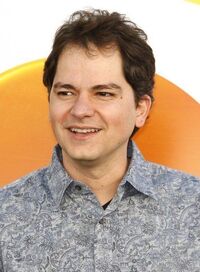 Carlos Saldanha is the director of the Ice Age films (excluding Ice Age: Continental Drift) and the Rio films. He was also the voice of Egbert, Yoko, and Shelly in Ice Age: Dawn of the Dinosaurs. In Rio (which he directed), Saldanha also voiced the second waiter when Tulio and Linda were having dinner.
Linda (Child) was voiced by Saldanha's daughter, Sofia Scarpa Saldanha.
In Rio 2, Carlos Saldanha's children also voice the Kid Macaws.\\\
Biography
Born and raised in Rio de Janeiro, Brazil [1][2], Saldanha enjoyed a fairly typical childhood that was eventually defined by his passion for animation. Carlos would spend hours perfecting his cartoonish drawing technique, and he quickly realized that he had to move to the States to pursue animation as a career. In 1991, Carlos arrived in New York City to attend the prestigious School of Visual Arts, where he completed two well-received shorts and earned a degree in animation. It was also at School that Saldanha met MFA instructor and future film directing partner Chris Wedge, who invited Saldanha to join Wedge's company Blue Sky Studios. Carlos was immediately put to work as an animator on Blue Sky's various projects, with the company, in its early days, best known for cranking out commercials and short films. In 1997, Blue Sky began focusing exclusively on special effects and Carlos worked behind-the-scenes on such movies as 1997's The Fairy Godmother and 1999's Fight Club.

The company's (Blue Sky Studios) first release was 2002's Ice Age, with Carlos, along with his buddy Chris Wedge, tapped to take the directorial reigns on the expensive and ambitious project. The film, which features the voices of Ray Romano, Denis Leary, and John Lequizamo, became an immediate smash and established Blue Sky as a competitive force within the computer animation field. The movie was a success, with an opening weekend gross of $46.3 million, the best March opening ever. After co-directing the 2005 film Robots he broke his previous March opening record with 2006, Ice Age sequel, Ice Age 2: The Meltdown, which Saldanha directed by himself. He would later direct the 2009 sequel, Ice Age: Dawn of the Dinosaurs. Desiring a change of location after directing three films set in icy locales, Saldanha's next project was the 2011 film Rio, which is set in Saldanha's hometown of Rio de Janeiro. Saldanha, who felt that Rio had never been fully portrayed on film, felt a responsibility to travel to the city with the other animators so that they could accurately capture Rio's unique environment and habitats. The movie grossed a reported $484 million worldwide. Rio competed for an Oscar for Best Original Music with music Real in Rio but ended up losing. Due to the success of Rio, Carlos Saldanha works in sequence, Rio 2, which premieres on April 11, 2014, in the U.S. 
In October 2012, Saldanha signed a five-year exclusive deal with 20th Century Fox to develop and produce animated and live-action projects. For this purpose, he formed in June 2013 a Fox-based production company, named BottleCap Productions.
Currently, Carlos Saldanha is a director who is directing the film "Rio, Eu te Amo", and be working on the film based on the History of Ferdinand. He is also developing an animated feature film based on Alienology ologies from the fantasy book series, and want to direct a live-action adaptation of Royden Lepp's graphic novel Rust: Visitor in the Field.
Quotes
"I wanted a setting very different from the one we explored in 'Rio.' I thought we should move away from the city."
"We wanted to look at different musical 'flavors,' sounds and exciting new beats that make the soundtrack for Rio 2 even bigger than the first film's."
"Don was our guy. He embraced the vision of the first film and had really exciting ideas for Rio 2. His death left a big gap for us. We were lucky to have the amazing writers Carlos Kotkin, Jenny Bicks and Yoni Brenner help finish the screenplay, but Don was a very special person who played a big role in the project's development."
"We start the movie off with a bang – a big musical number – just like we did in 'Rio.' We had already explored Carnival [in the first film] and knew that in Brazil, the next biggest event is New Year's. So we decided to kick off Rio 2 with all of our favorite birds back together in a New Year's musical extravaganza. It's a great way to reintroduce the audience to our characters."
"In the first film, Blu thought the city of Rio was wild, but he hasn't experienced the true meaning of wild until he travels to the Amazon. It's a big trip for Blu and Jewel and the children. He's not comfortable with it, but he'll do it for the good of his family."
"We wanted to capture the vibe of the forest and its harmony, with nature and with animals."
"The fact is that these birds we'll soon meet have been kept alive and have managed to survive because they have been in isolation from human contact. We created a contained bird village that's a microcosm of the gigantic Amazon."
"I saw a clip of Bruno acting on SNL, and I thought he was really funny."
"'Rio' was about Carnival, so it had a lot of Bossa Nova and Samba. For Rio 2, we wanted to explore other rhythms and percussion from the north and northeastern parts of the country. I think we have a very sophisticated and fun soundtrack for Rio 2."
"I wanted to bring them in for the first movie, but I didn't have a chance to do so. The group makes its own instruments, made out of pipes and crazy objects and they come up with unique and wonderful sounds that I wanted to represent a bit of the score and the voice of the jungle."
"It's a little early, granted. I want to see how Rio is accepted by the audience, and how people take this sequel. Of course, I have a lot of stories to tell, so we're [starting to] prepare for it. Because we love these characters so much, and there are a lot of things in my head that maybe I couldn't put in the movie. I wanted to take them to a different place. So I don't know yet. We'll see what happens." [3]
"Oh, man! I couldn't ask for more!"
Videos
Gallery
References
External links
Community content is available under
CC-BY-SA
unless otherwise noted.