Blue

Hex Triplet

#0000FF

RGB (r, g, b)

(0, 0, 255)

HSV (h, s, v)

(196°, 100%, 65%)
Blue
 is the color of the clear sky and the deep sea. On the optical spectrum, blue is located between violet and green.
Blu
, the protagonist in
Rio
and
Rio 2
, is a
Spix's Macaw
with blue feathers. He is also named after the color, although the 'e' is taken out.
Blue is one of the three primary colours of pigments in painting and traditional colour theory, as well as in the RGB colour model. It lies between violet and green on the spectrum of visible light. The eye perceives blue when observing light with a dominant wavelength between approximately 450 and 495 nanometres. Most blues contain a slight mixture of other colors; azure contains some green, while ultramarine contains some violet. The clear daytime sky and the deep sea appear blue because of an optical effect known as Rayleigh scattering. An optical effect called Tyndall scattering explains blue eyes. Distant objects appear more blue because of another optical effect called aerial perspective.
Blue has been an important colour in art and decoration since ancient times. The semi-precious stone lapis lazuli was used in ancient Egypt for jewellery and ornament and later, in the Renaissance, to make the pigment ultramarine, the most expensive of all pigments. In the eighth century Chinese artists used cobalt blue to colour fine blue and white porcelain. In the Middle Ages, European artists used it in the windows of Cathedrals. Europeans wore clothing coloured with the vegetable dye woad until it was replaced by the finer indigo from America. In the 19th century, synthetic blue dyes and pigments gradually replaced mineral pigments and synthetic dyes. Dark blue became a common colour for military uniforms and later, in the late 20th century, for business suits. Because blue has commonly been associated with harmony, it was chosen as the colour of the flags of the United Nations and the European Union.[2]
Surveys in the US and Europe show that blue is the colour most commonly associated with harmony, faithfulness, confidence, distance, infinity, the imagination, cold, and sometimes with sadness.[3] In US and European public opinion polls it is the most popular colour, chosen by almost half of both men and women as their favourite colour.[4] The same surveys also showed that blue was the colour most associated with the masculine, just ahead of black, and was also the colour most associated with intelligence, knowledge, calm and concentration.[3]
Shades and variations
Blue is the colour of light between violet and green on the visible spectrum. Hues of blue include indigo and ultramarine, closer to violet; pure blue, without any mixture of other colours; Cyan, which is midway in the spectrum between blue and green, and the other blue-greens turquoise, teal, and aquamarine.
Blue also varies in shade or tint; darker shades of blue contain black or grey, while lighter tints contain white. Darker shades of blue include ultramarine, cobalt blue, navy blue, and Prussian blue; while lighter tints include sky blue, azure, and Egyptian blue. (For a more complete list see the List of colours).
Blue pigments were originally made from minerals such as lapis lazuli, cobalt and azurite, and blue dyes were made from plants; usually woad in Europe, and 
Indigofera tinctoria
, or true indigo, in Asia and Africa. Today most blue pigments and dyes are made by a chemical process.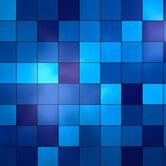 Characters with blue feathers
Community content is available under
CC-BY-SA
unless otherwise noted.