Main Page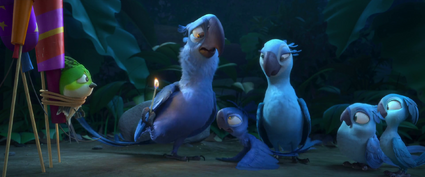 Batucada Pagode is the second score in John Powell's Rio 2 Score compositions. It is played after the intro scene of Rio 2, when Blu and Jewel arrive just in time to stop Tiago from lighting fireworks with Tiny strapped to one of the fireworks. It is also a shortened and slightly modified version of "Batucada Familia".
Trivia
This score's title, "Batucada Pagode", actually refers to two subgenres/substyles associated with samba.

The first, "Batucada", refers to an African-influenced Brazilian percussive style, usually performed by an ensemble, known as a bateria, and is characterized by its repetitive style and fast pace. [1]
The second, "Pagode", is a Brazilian style of music that originated in Rio de Janeiro, Brazil, and over time, has been used by many commercial groups, which have included a version of the music filled with clichés, and there is now a sentiment that the term is a pejorative for "very commercial pop music". [2]
Video
Main Page
References