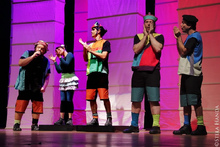 Barbatuques
is a Brazilian humorous musician group funded by Fernando Barba and consists of 15 musicians. The group produces music mainly focused on body percussion, including hand-clapping, whispers, finger claps, chest hitting, tap dancing, etc, resulting in rhythms like samba or rap, showing the power of collectivism and expressing it Brazilian-style.
You can hear their work in Rio 2 in the song Beautiful Creatures which was used to accompany the Spix's Macaw Tribe's celebration for Jewel's return. Some of their music can be found on Youtube. The group also performed in many scores during Rio 2.
Contributed Tracks
Rio 2
See Also
Community content is available under
CC-BY-SA
unless otherwise noted.