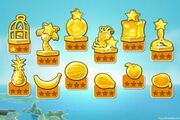 Awards Room (formerly Trophy Room) is a bonus episode of Angry Birds Rio. It is somewhat similar to Golden Eggs in Angry Birds. It featured 12 new levels that are each unlocked when a player finishes a chapter or collects all 15 of a certain Golden Fruit. Also, when you earn all of the Golden Fruits, there is an extra level. The level contains a bunch of pig balloons, and in the middle is an actual King Pig balloon. The number of levels increased due to the Market Mayhem episode. In each of levels, you have to either free caged birds or defeat Marmosets. The episode was removed in the 1.7.0 update, with the two levels from each episode included in the episodes' level menus.
Community content is available under
CC-BY-SA
unless otherwise noted.