Andrés Arturo García Menéndez
(born April 12, 1956), professionally known as
Andy García
, is a Cuban American actor who voiced
Jewel
's father
Eduardo
in 
Rio 2
.
[1]
On January 17, 2014, a video featuring Andy García was released by Rio Official Channel on YouTube, congratulating to his co-star Rita Moreno, who has become 50th recipient of SAG Life Achievement.
Early Life
García was born Andrés Arturo García Menéndez in Havana, Cuba. His mother, Amelie Menéndez, was an English teacher, and his father, René García Núñez, was an avocado farmer and attorney in Cuba, and later owned a fragrance business in the United States. García has two older siblings, a sister named Tessi and a brother named René. When García was five years old, the family moved to Miami, Florida, after the failed Bay of Pigs Invasion. Over a period of several years, they built up a million-dollar perfume company. García was raised as a Roman Catholic and attended Miami Beach Senior High School, where he played on the basketball team. During his last year in high school, he became ill with mononucleosis, which convinced him to pursue a career in acting. He began his acting career taking a drama class with Jay W. Jensen in his senior year at Miami Beach Senior High School. He graduated from Florida International University in Miami.
Career
García began acting at Florida International University but soon went to Hollywood. He had a short role in the first episode of Murder, She Wrote as "1st white tough", in 1984. He played the role of a gang member in the first episode of the popular TV series Hill Street Blues. He appeared in a supporting role in The Mean Season (1985), alongside Kurt Russell. Director Brian De Palma engaged him for The Untouchables (1987).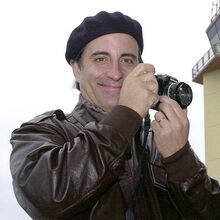 García acted the Ridley Scott film Black Rain (1989) with Michael Douglas. That same year, Francis Ford
Coppola was casting The Godfather Part III (1989). García won the part of Vincent Mancini, the illegitimate son of Sonny Corleone, and earned an Academy Award nomination as Best Supporting Actor for his performance.
In the 1990s, García appeared in Internal Affairs (1990), in which he engages in a battle of wits with a corrupt fellow police officer, played by Richard Gere. He played a conflicted good samaritan in Hero (1992), the enabling husband of an alcoholic in When a Man Loves a Woman (1994), a doomed criminal in Things to Do in Denver When You're Dead (1995), a crusading lawyer in the drama Night Falls on Manhattan (1997), and a cop trying to save his gravely ill son in the action thriller Desperate Measures (1997). He played mobster Lucky Luciano in Hoodlum (1998).
He portrayed the ruthless Las Vegas casino owner Terry Benedict in Ocean's Eleven (2001), a remake of the 1960 Rat Pack caper movie. He also appeared in the sequel, Ocean's Twelve (2004) and in the third film, Ocean's Thirteen (2007).
He co-wrote, directed, and starred in The Lost City (2005) alongside Dustin Hoffman and Bill Murray.
In 2006, he appeared in the last episode of the Turkish TV series Kurtlar Vadisi, along with Sharon Stone.
Hemingway project
García is slated to direct the upcoming film Hemingway & Fuentes about famous writer Ernest Hemingway co-written
by García and Hemingway's niece Hilary Hemingway. Originally, announced stars included Anthony Hopkins, Annette Bening and García himself. Filming was originally to have begun in January 2013, but due to delays, Hopkins left the project and Garcia announced that the role of Hemingway would be played by actor Jon Voight.
Personal life
In 1982, García married Marivi Lorido. The couple has four children: daughters Dominik García-Lorido (b. 1983), an actress, Daniella (b. 1988), and Alessandra (b. 1991); and son Andres (b. 2002).
García has expressed, on a number of occasions, his opposition to the communist regime that has ruled Cuba since the revolution that occurred there from 1953 to 1959. Following Fidel Castro's death in November 2016, García condemned his legacy, stating: "It is necessary for me to express the deep sorrow that I feel for all the Cuban people...that have suffered the atrocities and repression caused by Fidel Castro and his totalitarian regime."
Quotes
Andy: "Eduardo is the top bird. He's passionate about his family and his flock, as well as the Amazon and the sanctuary he's created for his fellow Macaws."
Andy: "Eduardo is joyful about reuniting with Jewel and discovering he's a grandfather, but as he gets to know Blu, he finds much about his son-in-law to be annoying, or worse."
Andy: "A fanny-packing bird is not Eduardo's idea of a good match for his daughter!"
"How would her father feel about seeing her long-lost daughter, and then encountering that... he is now a grandfather!"
"Blu is not necessarily the kind of guy that I would want my daughter to marry."
"It's a great honor, you know, the fact that the city would think of me. I'm very touched by that!"
Gallery
Reference
Community content is available under
CC-BY-SA
unless otherwise noted.