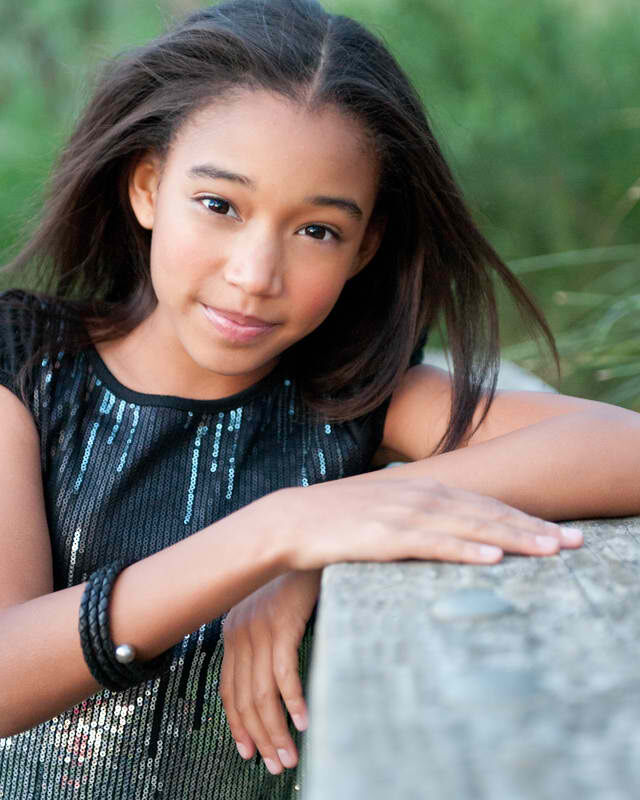 Amandla Stenberg (born October 23, 1998) is an American actress. She portrayed Rue in The Hunger Games; Madeline Whittier in Everything, Everything; and Starr Carter in The Hate U Give (2018). She is also the voice of Bia in Rio 2.[1]
Early Life
Amandla Stenberg was born in Los Angeles, California, the child of Karen Brailsford and Tom Stenberg. Her mother is African American, her father is Danish, and her paternal grandmother had Greenlandic Inuit ancestry. Her name means "power" or "strength" in Zulu.
Career
At the age of four, Stenberg started doing catalog modeling shoots for Disney. She has appeared in commercials for clients such as Boeing. In 2011, she appeared in her first feature film, Colombiana, as a younger version of Zoe Saldana's character. Her career breakthrough came when she was cast as Rue in the 2012 film The Hunger Games. She voiced Bia in the 2014 animated film Rio 2. Stenberg had a recurring role on season one of Sleepy Hollow. In the summer of 2015, she played series regular Halle Foster on Mr. Robinson.
In 2013, Stenberg began performing on the violin and singing harmonies at Los Angeles venues with singer/songwriter Zander Hawley. They released their first EP in August 2015 as the folk-rock duo Honeywater. The magazine Dazed named Stenberg "one of the most incendiary voices of her generation" when it featured her on its Autumn 2015 cover. She was also included in Time's list of Most Influential Teens in both 2015 and 2016, and named to Oprah Winfrey's SuperSoul 100 list of visionaries and influential leaders in 2016. Stenberg has spoken publicly on social media about cultural appropriation.
Stenberg co-wrote the comic book Niobe: She is Life with Sebastian Jones. The book is an offshoot Jone's graphic novel The Untamed. It is set in a fantasy world and follows the journey of a half elf half human princess. According to Jones its the first nationally distributed comic that has a black woman as its protagonist while also having a black woman as the author and another as the artist. Jones wanted Stenberg's help in creating the comic because it revolved around a young female character. The first issue, illustrated by Ashley A. Woods, was published in November 2015. In May 2017 the pair released Niobe: She is Death, the second part of the trilogy.
In 2017, she starred in the romantic drama Everything, Everything, directed by Stella Meghie, and co-starring Nick Robinson. She played the lead in Amma Asante's World War II drama Where Hands Touch, and the contemporary drama The Hate U Give (2018).
Personal life
Stenberg identifies as an intersectional feminist. She is outspoken about her political views in interviews and on social media, and was named "Feminist of the Year" in 2015 by the Ms. Foundation for Women. In 2016, Stenberg announced via Instagram that she would be attending film school at New York University.
Stenberg identifies as non-binary, and uses both 'they' and 'she' pronouns. She has previously said she was bisexual and pansexual.
In June 2018, in an interview with Wonderland magazine, she came out as gay. Stenberg is dating singer King Princess. In a July 2017 interview Stenberg stated that she had stopped using a smartphone due to its effects on mental health, and took a long break from it.
Gallery
References