Twentieth Century Fox Film Corporation (also spelled 20th Century Fox or just simply Fox) is the major film company that distributes the Ice Age and Rio films.
The studio is one of the six major American film studios as of 2010. Located in the Century City area of Los Angeles, just west of Beverly Hills, the studio is a subsidiary of Sony Pictures Entertainment, the media conglomerate owned by Rupert Murdoch. The company also owns Blue Sky Studios.
The company was founded on 1915 by William Fox as Fox Film Corporation.
A misconception is commonly made by audiences: Scrat is sometimes considered as the mascot for 20th Century Fox, but is actually Blue Sky Studios' mascot.
Notable and popular movies/movie series
1960s
Cleopatra
Cleopatra is a 1963 film directed by Joseph L. Mankiewicz. The film starred Elizabeth Taylor, Richard Burton, Rex Harrison, Roddy McDowall and Martin Landau. The music score was by Alex North.
Cleopatra chronicles the struggles of Cleopatra VII, the young Queen of Egypt, to resist the imperialist ambitions of Rome.
Despite being a critical and commercial failure, it was a four-time Academy Award winner. The movie turned out to be very expensive, although it was the highest grossing film of the year, 20th only recovered half of the money spent for its production. 20th Century Fox's foundings were restored with the film The Sound of Music.
The Sound of Music
The Sound of Music is a 1965 musical film directed by Robert Wise and starring Julie Andrews in the lead role. The film is based on the Broadway musical The Sound of Music, with songs written by Richard Rodgers and Oscar Hammerstein II, and with the musical book written by the writing team of Howard Lindsay and Russel Crouse.
The musical originated with the book The Story of the Trapp Family Singers by Maria von Trapp. It contains many popular songs, including "Edelweiss", "My Favorite Things", "Climb Ev'ry Mountain", "Do-Re-Mi", "Sixteen Going on Seventeen", and "The Lonely Goatherd", as well as the title song.
The movie version was filmed on location in Salzburg, Austria and Bavaria in Southern Germany, and also at the 20th Century Fox Studios in California. It won a total of five Academy Awards including Best Picture in 1965 and is one of the most popular musicals ever produced.
1970s
Star Wars
Star Wars is a space opera (sci-fi/romance) film series conceived by George Lucas. The first film was released in May 25, 1977, by 20th Century Fox and became a worldwide phenomenon, spawning two immediate sequels, released in 3 year intervals. Sixteen years later, a prequel trilogy was released, with the final film Revenge of the Sith being released in 2005. On October 30, 2012, The Walt Disney Company purchased Lucasfilm Ltd. and the entire Star Wars franchise.[1]
1980s
Die Hard
Die Hard is a 1988 action film directed by John McTiernan and written by Jeb Stuart and Steven E. de Souza. It is based on a 1979 novel by Roderick Thorp titled Nothing Lasts Forever, itself a sequel to the book The Detective.
It stars Bruce Willis as the NYPD officer John McClane and Alan Rickman as terrorist thief Hans Gruber.
A critical and commercial success, Die Hard Propelled Willis' film career and established Rickman as a popular portrayer of villains in American films. The film also started the Die Hard series.
1990s
Titanic
Titanic is a 1997 American romantic drama film directed, written, co-produced and co-edited by James Cameron about the sinking of the RMS Titanic. It stars Leonardo DiCaprio as Jack Dawson and Kate Winslet as Rose DeWitt Bukater, two members of different social classes who fall in love aboard the ill-fated maiden voyage of the ship. The main characters and the central love story are fictional, but some characters (such as members of the ship's passengers and crew) are based on real historical figures. Gloria Stuart plays the elderly Rose, who narrates the film in a modern day framing device.
The film was originally to be released on July 2, 1997, but post-production delays pushed back the film's release to December 19, 1997. Upon release, the film turned out to be an enormous critical and commercial success, winning eleven Academy Awards, including Best Picture. It became the highest-grossing film of all time, with a worldwide total of over $1.8 billion dollars (it is the sixth-highest grossing in North America once adjusted for inflation).
2000s
Ice Age
Ice Age is a 2002 American computer-animated film created by Blue Sky Studios and released by 20th Century Fox in 2002. The film was originally to be animated in 2-D by Fox Animation Studios, and will be directed by Don Bluth (director of An American Tail, The Land Before Time, All Dogs Go to Heaven and Rock-a-Doodle) and Gary Goldman (co-director of Anastasia and Titan A.E.), but the rise of computer-animation and the failure of Titan A.E. destroyed Fox's traditional-animation division, transferring their duties to Chris Wedge and Carlos Saldanha for Blue Sky.
Avatar
Avatar is an American 3-D science fiction epic film directed by James Cameron, released on December 18, 2009 by 20th Century Fox. The film is Lightstorm Entertainment's latest project, and focuses on an epic conflict on a far-away world called Pandora, where humans and the native species of Pandora, the Na'vi, engage in war over the planet's resources and existence.
The film is first titled Project 880, and was originally to be released on May 22, 2009, but post-production delays pushed back the film's release to December 18, 2009. The film was released in 2D, 3D and 4D formats, along with Dolby 3D, XpanD 3D and IMAX 3D releases in selected theaters. The film is being touted as a breakthrough in terms of filmmaking technology, for its development of 3D viewing and stereoscopic filmmaking with cameras that were specially designed for the film's production, and has already been slated for two awards.
2010s
Rio is a 2011 film produced by 20th Century Fox and Blue Sky Studios.
Ice Age: Continental Drift is an animated film released in 2012, and the fourth installment of the Ice Age franchise.
Rio 2 is a 2014 film sequel to the 2011 film Rio and is the start of the Rio franchise.
Ice Age: Colision Course is the fifth and latest installment of the Ice Age franchise.
The Walt Disney Company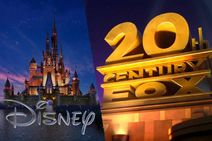 On December 14, 2017, The Walt Disney Company announced that it is acquiring most of Fox's parent company, 21st Century Fox, including the film studio.[2]
On May 7, 2018, shares of Fox rose 5.1% when a report was released that Comcast was in talks with investment banks and firms in order to obtain bridge-financing for an all-cash bid, reportedly worth $60 billion, that threatened the Disney-Fox deal.[3]
On May 29, it was reported that Disney was looking into making its own all-cash counter-offer for Fox assets in the event that Comcast went through with their offer.[4] The next day, Disney and Fox announced that they have set their shareholder vote meetings for July 10, though both companies have stated that Fox's meeting could be postponed if Comcast came through with their offer.[5]
On June 12, AT&T was given approval by District Judge Richard J. Leon to acquire Time Warner, easing concerns Comcast had regarding whether government regulators would block their bid for Fox. Consequently, the next day, Comcast mounted a bid of $65 billion for the 21st Century Fox assets that were set to be acquired by Disney.[6][7]
On June 18, it was reported that Disney will add to its already existing $52 billion claim to contest Comcast's proposed counteroffer for the Fox assets.[8]
On June 20, Disney and Fox announced that they had amended their previous merger agreement, upping Disney's offer to $71.3 billion (a 10% premium over Comcast's $65 billion offer), while also offering shareholders the option of receiving cash instead of stock.[9][10]
On June 21, Murdoch said in response to Disney's higher offer: "We are extremely proud of the businesses we have built at 21st Century Fox, and firmly believe that this combination with Disney will unlock even more value for shareholders as the new Disney continues to set the pace at a dynamic time for our industry." That still does not prevent other companies from making a bid, as the deal needed to be voted on by shareholders.[11] Iger explained the reasoning behind the bid: "Direct-to-consumer distribution has actually become an even more compelling proposition in the six months since we announced the deal. There has just been not only a tremendous amount of development in that space, but clearly the consumer is voting—loudly."[12]
On June 27, the United States Department of Justice gave antitrust approval to Disney under the condition of selling Fox's 22 regional sports channels, to which the company has agreed.[13]
On July 9, a Fox shareholder filed a lawsuit to stop the acquisition from Disney citing the absence of financial projections for Hulu.[14][15] On the same day, CNBC reported that Comcast was looking for companies that could take over Fox's Regional Sports Networks. This would make easier Comcast's legislative problems regarding the takeover of Fox assets, preparing to make a new all cash counter-offer before July 27, 2018.[16]
On July 12, the Department of Justice (DOJ) filed a notice of appeal with the D.C. Circuit to reverse the District Court's approval for AT&T's acquisition of Time Warner (now WarnerMedia). Although analysts say that the chances of a DOJ win are small, they say it is the "final nail in the coffin for Comcast's Fox chase. This is a clear gift to Disney."[17] On the next day, CEO of AT&T Randall Stephenson gave an interview with CNBC, about Comcast's bid for Fox: "It probably can't help it. You're in a situation where two entities are bidding for an asset, and this kind of action can obviously influence the outcome of those actions."[18]
On July 13, Disney received the support of the Institutional Shareholder Services and Glass Lewis, the two most prominent proxy adviser firms in the world. Fox shareholders were recommended by the advisers as means to provide for Disney's future.[19]
On July 16, CNBC reported that Comcast is unlikely to continue its bidding war to acquire Fox from Disney in favor of Sky.[20]
On July 19, Comcast officially announced that it was dropping its bid on the Fox assets in order to focus on their bid for Sky. The CEO of Comcast, Brian L. Roberts, said "I'd like to congratulate Bob Iger and the team at Disney and commend the Murdoch family and Fox for creating such a desirable and respected company."[21]
On July 25, TCI Fund Management, the second largest shareholder of 21st Century Fox, voted to approve the Fox-Disney deal.[22]
On July 27, Disney and Fox shareholders approved Disney's purchase of Fox's entertainment assets. The acquisition's completions should be in the first half of 2019.[23] On the same day, Bloomberg News reported that out of all 15 nations yet to approve the deal, China could become the biggest threat to the merger since the trade war with the USA resulted in the merger between Qualcomm and NXP not being realized.[24]
On August 9, it was reported that Viacom CEO Robert Bakish wants to license its TV ad targeting tech to the entire industry, starting with Fox.[25]
On August 12, the Competition Commission of India approved the Disney-Fox deal.[26]
On September 17, the European Commission announced plans of deciding what to do with the Disney-Fox deal by October 19.[27]
On October 5, Disney announced the commencement of exchange offers and consent solicitations for 21st Century Fox.[28]
On October 8, Disney announced that 21st Century Fox's top television executives would join the company, including Peter Rice, Gary Knell, John Landgraf, and Dana Walden. Rice will serve as Chairman of Walt Disney Television and co-chair of Disney Media Networks, succeeding Ben Sherwood while Walden is to be named Chairman of Disney Television Studios and ABC Entertainment.[29]
On October 10, it was reported that the new, post-merger organizational structure of "New Fox" would be implemented by January 1, 2019, ahead of the closure of the Disney sale (which is still expected to occur during the first half of 2019).[30]
On October 15, Disney offered a list of concessions to the European Commission, which extended the review deadline to November 6.[31]
On October 18, Disney announced a new organizational structure for The Walt Disney Studios.[32]
On November 6, the sale was cleared by the European Commission, pursuant to the divestment of certain factual television networks in Europe owned by the Disney/Hearst joint venture A&E Networks, including Blaze, Crime & Investigation, History, H2, and Lifetime. Disney will continue to be a 50 percent owner of A&E in areas outside of the European Economic Area.[33]
On November 19, 2018, China's regulators approved the Disney-Fox deal, without any conditions.[34]
After obtaining approval from Chinese regulators, Disney reported that it still needed to obtain regulatory approval from several other regulators, though the approvals from the United States, India, European Union, and China were considered the most important hurdles to clear.[35]
On November 21, 2018, Disney expected to get approval from Brazil's antitrust division, the Administrative Council for Economic Defense (CADE), within two weeks. The Brazilian Tribunal has its last session of 2018 scheduled for December 5, and doesn't reconvene again until January 2019. A successful decision could be appealed by third parties, and CADE has until March 18 to issue an initial decision on the deal.[36]
20th Century Fox World Studio Store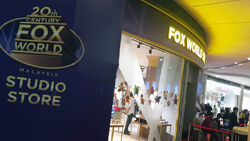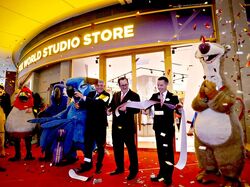 As part of the coming opening of the first theme park, on April 21th 2018 20th Century Fox opened a official store in Malaysia. A great event took place to promote the store.
The official page states this:
"Spanning 3,000 sq ft of retail space, this specialty store is set to send movie buffs on an exhilarating experience into the enchanting cinematic realm of Fox World.
The store offers close to 700 themed collectibles from some of the most-loved 20th Century Fox movies, including Ice Age, Night at the Museum, Planet of the Apes, Rio, Alien vs. Predator, Robots, Epic and more."
As a way to commemorate this event, many characters from Fox´s franchises (Rio and Ice Age) appeared during the celebration, including Blu, Jewel, Nico and Pedro, were seen dancing in front of the store at its grand opening!
Trivia
In the teaser trailer for Rio, Rafael, the toucan, says "Come on, you're not gonna back out now!" off-screen when the 20th Century Fox logo appears.
External Links and Bibliography
References